Currencies, Stamps and Coins with the portraits of Queen Elizabeth II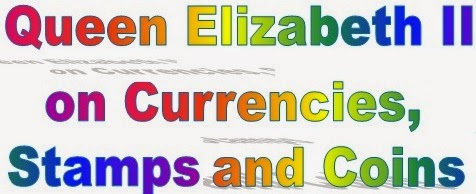 Written by N.R. Jayaraman
In our living memory, the credit for appearing in several of the Currencies, Bank Notes, Stamps and Coins issued by several nation goes only to Queen Elizabeth II, which perhaps remains an unbeaten record in Guinness book till now. She has surpassed the record of King George V whose portrait appeared in only 19 Currencies.

It is not unusual to find portraits of political figures, monarchs, or national leaders on banknotes issued by different countries all over the world. Their portraits are printed on Currencies, Stamps or even used in Coins to commemorate them. But the personalities so displayed on the Stamps, Currencies or Coins were limited to the personalities of their own country barring rare exceptions when the prominent personalities of other countries were displayed in stamps issued by other countries as a mark or respect or honor.

To quote a few personalities whose portraits appeared in different Currencies include personalities such as the Presidents of America in Currencies issued by U.S.A, Pakistan portraying their father of nation Jinnah, Brunei showcasing different Sultans, and India displaying the portrait of its father of nation Mahatma Gandhi on Bank notes issued in the name of MG series. None of these countries have portrayed the picture of personalities of other nation after they attained independence while India and Pakistan Currencies were released with the portraits of Victoria and George V during British rule.
Some of the Currencies, Coins and Stamps
issued by different countries like Australia,
Canada, Jamaica, Man islands, New Zealand,
Mauritius etc portraying Queen
Elizabeth II
The Bank notes and Currencies of over 33 countries has the portrait of Queen Elizabeth II. Perhaps in the world only one personality – Queen Elizabeth II finds portrayed in the Currencies and Bank Notes of more than 33 countries.
Who is Queen Elizabeth II and why is that her portrait figures in the Currencies, Bank notes, Coins and even Stamps of other nations? This is an interesting question which needs to be answered.
Born in a Royal family, initially Queen Elizabeth II became Queen of the United Kingdom, Canada, Australia, New Zealand, South Africa, Pakistan and Ceylon upon the death of her father, George VI in the year 1952. With her her accession to power in 1952 Queen Elizabeth II remained the head of sixteen of the 53 member states in the Commonwealth of Nations. She was Head of the Commonwealth and Supreme Governor of the Church of England. From 1956 to 1992, the number of her realms* under her varied as territories gained independence and some realms* became republics (*Country/ State) .
Apart from United Kingdom, Queen Elizabeth II was also Queen of Canada, Australia, New Zealand, Jamaica, Barbados, the Bahamas, Grenada, Papua New Guinea, the Solomon Islands, Tuvalu, Saint Lucia, Saint Vincent and the Grenadines, Antigua and Barbuda, Belize, and Saint Kitts and Nevis, where she was represented by Governors-General. All those countries issued Bank Notes and Currencies with the portrait of Queen Elizabeth II. The 16 countries of which she was queen are known as Commonwealth Realms*.
The English monarch is also the monarch of Scotland, Wales, Canada, Australia, New Zealand, and some other former colonies. The monarch is the head of state of Canada, while the head of the government is the prime minister, just as in the United Kingdom of England, Scotland and Wales. Because Canada is member states in the Commonwealth of Nations Queen Elizabeth II was basically Canada's Queen too. Hence Canada too issue Coins and Currencies with her portraits.
Besides Currencies, Queen Elizabeth II is portrayed in the Coins and Stamps of some of the countries. The following 36 countries have issued coinage with The Queen's image:
Canada, Bahamas, Belize, Bermuda, British Virgin Islands, Cayman Islands, Dominica, East Caribbean States, Jamaica, Turks Caicos, Falkland Islands, St. Helena, Tristan da Cunha, South Africa, Rhodesia, East Africa, Nigeria, Mauritius, Seychelles, Hong Kong, Malaya British Borneo, Australia, New Zealand, Tokelau, Fiji, Kiribati, Papua New Guinea, Solomon Islands, Tuvalu, Cyprus, Gibraltar, Guernsey, Jersey, Isle of Man, and the UK.
Perhaps her eight year aged portrait, when she was princess figured in the Canadian currency, and again her portrait of 25 year age was also printed in Canadian Currency in 1967. It was a great honor shown by Canada for their Monarch. It is also interesting to read that though Queen Elizabeth II ascended the throne in U K in 1952, until 1960 her portrait did not appear on any of the Banknotes issued by the British Govt. However her portrait first appeared on British Coins in the year 1953. Queen Elizabeth II has, of course, been portrayed on British currency for much of her reign, but she has also appeared on the money of various other British Commonwealth states and Crown dependencies.
In the Currencies, Coins and Stamps issued, the Queen was frequently shown in formal crown-and-scepter attire, although Canada and Australia preferred to depict her in a plain dress and pearls. While many of the countries preferred to reflect the Queen's advanced aged portraits in the Currencies issued by them, few other countries preferred to retain the younger aged portrait of the Queen.
Since 1952 till 2009 over 504 different designed Stamps have been released by U.K. that portraits the picture of Queen Elizabeth II. Over the years, 26 different portraits of Queen Elizabeth II have been used in various Currencies. All the portraits appearing in the Currencies were not taken for the exclusive purpose of incorporating in the Currencies. Some of them were taken years before the Currencies were actually printed while some were specially commissioned for the purpose of printing on the Bank notes.