Recent Developments in Printing : Series- 7

:

SQRC Code
:
( Written by : N.R. Jayaraman )
Recently I came across one of the latest technology in the security marking on print medium. The SQRC is quite interesting and reproduced below for the benefit of everyone.
To protect personal, private, secret, confidential data from getting read through QR Code scanners a new technology called Secure quick response code (SQRC) has been developed by a Japanese firm called DENSO WAVE which is the latest generation technology that helps in prevention of counterfeiting and forgery. It is possible to store two levels of control of information in a single code. The Japanese firm DENSO, a leading supplier of advanced automotive technology, systems and components for all the world's major automakers. The firm is represented in India by their authorized distributor M & M TECHNOLOGIES PVT. LTD.

The reach of M&M businesses is reflected in their innovative line of product and services that span many industries and customers. M&M businesses all share one important trait – each harness the power of imagination with innovation to make out customer competitive with highest quality in the market place.

SQRC is a new QR code with data reading restriction. SQRC Code is capable of handling all types of data, such as Numeric and Alphabetic characters, Alphanumeric, Symbols and Binary characters. 25 mm x 25 mm size SQRC can be inbuilt with either 7089 numeric characters, or 4296 Alphanumeric characters, or with 2953 Binary characters unlike QR code of which can encode only 300 alphanumeric characters of the same size. The SQRC code has two areas of readability as shown in the illustration. They are called public data and the other one is Private data. The private data area which is locked is readable only by a permitted SQRC special scanner.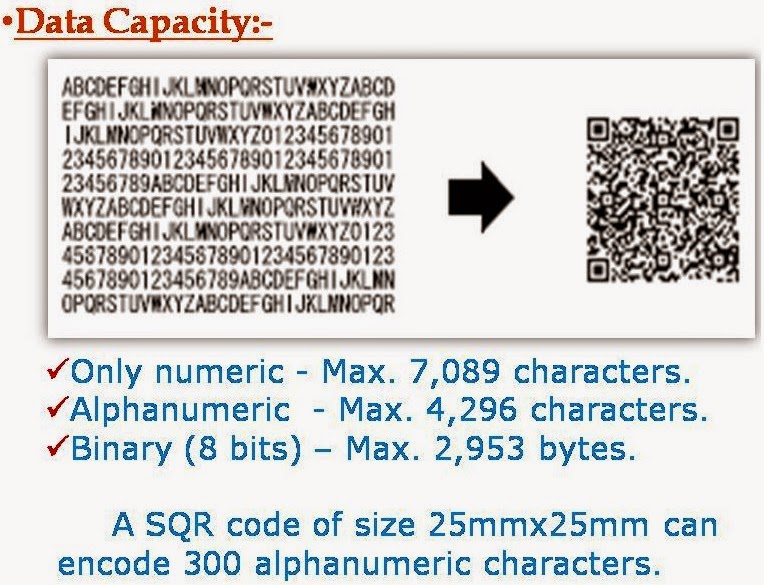 No other scanners can read SQRC, and therefore it is possible to encode personal information and confidential information. The private data is encoded with a password that can unlock the information. While the QR code can be read by general devices like mobile phones, camera enabled PDA devices & scanner, a proprietary scanner is needed to scan the password and reveal the encrypted data. The password can be changed as needed. Outwardly SQRC & QR Codes both look alike in appearance and while any QR code reader can read the public data of SQRC the password protected data in the same code can be read only with a special device that has special software inbuilt in it. Stickers with SQRC printed codes can be used in remote areas that do not have computer infrastructure and network connectivity. The authentication can be got done through Government servers or sending SMS.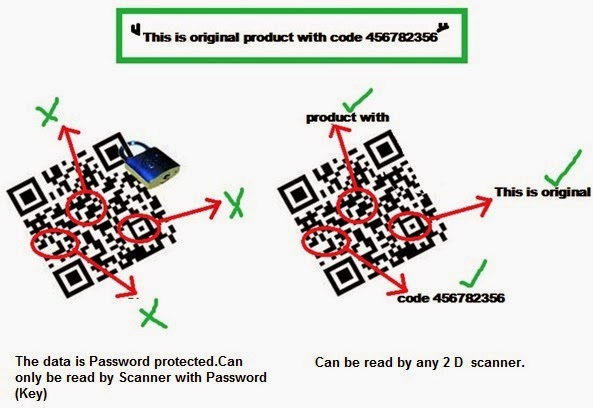 Any QR Code enabled device can read QR Codes therefore SQRCs were developed to meet the growing demands for the secure transportation of data with the product as the confidential information is code key encrypted and combined in the QR Code. QR codes are easy to generate and are also used for phishing attacks. SQRC can hold 200 times the data of conventional 1D code and therefore has high storage capacity within a small printing area . Unlike the Bar code Technology and Hologram, this technique has locking arrangement that prevents unauthorized personnel getting access to the hidden private data. Unless the unlock code in the form of a password is applied, this marker cannot be read by anyone. This makes the authentication foolproof and reasonably beyond doubt.
The SQRC mark is printed like any other Print mark on labels used for affixing on the cartons or printed directly on other medium with ordinary printer, or printed on a printing machine by the inkjet printer. However all these need to be attached to the computer which generates SQRC. This will NOT require special ink. There are two software applications associated with the use of this code.

While a special SQRC Maker is designed to create the codes for printing. The another program called the SQRC setting which is used for reading the printed SQRC. This SQRC setting is required for inserting the secured key in to the reading scanner for reading the SQRC. The entire software program and devices are supplied by the firm M & M TECHNOLOGIES PVT. LTD. The user of this system can prepare his/her own application.
The SQRC has multiple areas of application
· Product Traceability
· Product Authentication
· Document Authentication
· Fraud control and prevention
· Financial Transaction Doc


To whom will the

SQRC be useful?
· Various Government Dept Applications
· Excise Department
· Transport department
· Land Record and Revenue
· Financial Institutions
· Traceability of any Product
· Supply Chain Management
· Warehouse Management
· Recall Management
· Warranty Management
· Currencies and Bank Notes
· Pharmaceutical products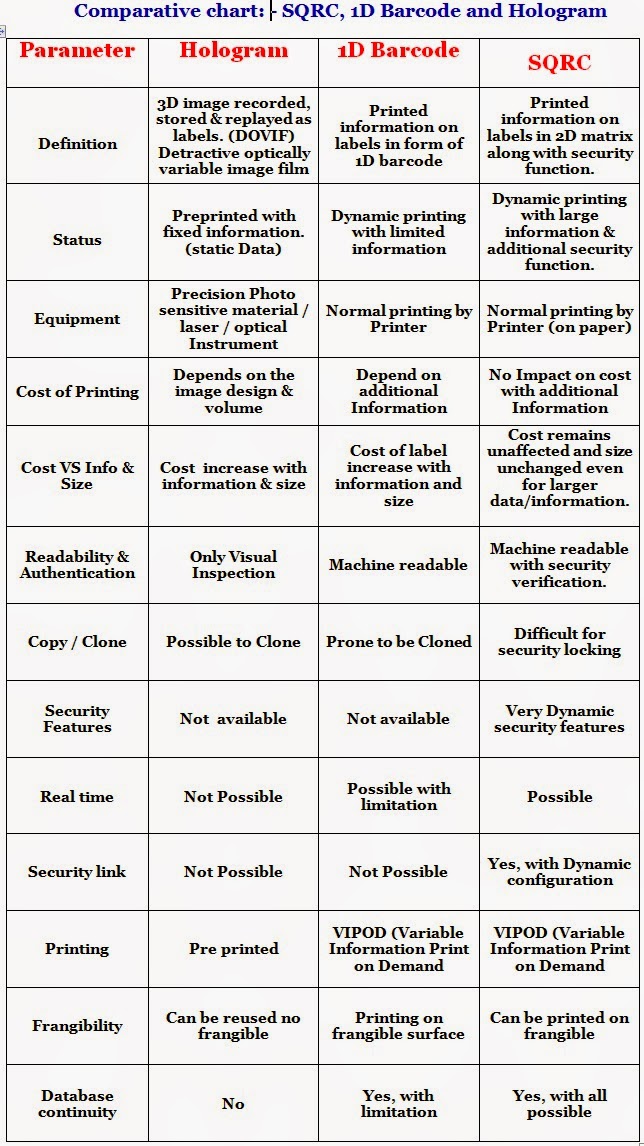 Advantages of SQRC Technology

• Data moves with product or document
• Dynamic changes in data can be coded, i.e. not static like a hologram
• Private data is protected
• Public can see public data
• Only an authorised person can access private data
• Anywhere, anytime usage – using desktop, handheld or mobile scanners
• User defined data can be used to generate a unique code each time
• Unique code each time defeats copying, tampering
• Easy to integrate SQRC into existing processes and applications without disrupting existing operations
• Cost effective means to combat fraud, counterfeiting and diversion
• Combination of software and hardware features makes SQRC an extremely secure application
• Can support Malayalam or other local language representation within the code
• Save on costs associated with infrastructure, networking, and other specialized equipment
• Can be used in remote areas that do not have computer infrastructure and network connectivity
• Eliminates technical errors and glitches due to malfunctioning of equipment or lack of connectivity
• Instantaneous scanning with SQRC results in faster service
• High data capacity and reduced space requirement
• Supports multi-directional scanning at high speed
• Can scan even from curved or irregular surfaces
• Error recovery feature enables reading of soiled or partially damaged codes
• Can be used with nano particle inks for enhanced security printing
• Can be enhanced to support images/photographs in SQRC form
• Can be printed on different surfaces like paper, metal, wood, fabric, ceramic, plastics, vinyl, rubber, glass, etc
• Enables automation of authentication of documents or products
• Provides electronic proof of verification/authentication
• Facilitates tracking and traceability of critical items

What are the key areas of application ?
To check counterfeiting on currencies or banknotes the SQRC codes can be printed on the printing machine with a inkjet printer in a corner that will contain the same number which can be verified for forged or counterfeit notes. In such an event the Banks can also have the special coded scanning device by which the authorities can make random check to verify the genuineness of the note wherever the suspicion arose.

Similarly the sticker labels on several of the consumer products too can be generated – liquor labels to pharmaceutical products, specially the life saving drugs – by SQRC marker combined with QR code so that a random check by the field staff can authenticate whether the product is genuine or duplicated product.
For further details on SQRC code the following firm can be contacted
:
Corporate Office:-
M & M TECHNOLOGIES PVT. LTD.
Unit No. 6-A, Pasayadan, Building, Panchpakhadi,
Sant Dyaneshwar Path,
Thane (West) – 400602
Maharashtra, India
Communication:-
Phone: – +91-22-25406982

and

+91-22-25410568

Email id: customercare@mmtechnologiesindia.com


Contact No:-

+91 9930423721

and

+91 9757081238