Counterfeiting menace – 4

Counterfeiting menace
on printed documents
Written by : N.R. Jayaraman
This article spread over to three or four parts
discuss the
nature of security features found
on the security
documents
and other commercial
documents of various kinds.
In addition to the standard features which have been discussed as mentioned earlier I have reproduced for educational purpose, brief on certain security features developed and owned as proprietary products by some of the reputed firms. For more details the concerned firms should only be contacted.
18) Opsec Security has developed an unique security feature called liquid crystal technology to create a range of highly specialized OVD security products that provide overt, covert and forensic protection into a single image. Advantage™ which can be customized to any logo for brands is available in a variety of constructions for multiple delivery systems, providing excellent optical authentication and tamper evidence. In normal lighting conditions, both daylight and artificial, the image appears green to orange, depending on the viewing angle.
The firm claims that the unique tri-modal color-shift technology is easily verified yet cannot be reproduced by even the most sophisticated duplication technology such as printing, photography or color photocopy. The product is reportedly represented by SecurMAX™. To read more on this product visit their site by clicking:
19) M/s Kodak Ltd, pioneers in the photographic field has also come out with a special feature called KODAK TRACELESS Color Shifting Inks. Available in seven color pairs, KODAK TRACELESS Color Shifting Inks provide an overt authentication feature. These inks are made with special pigments that change color as the viewing angle changes. Available in seven eye-catching color pairs it can be the security feature for the packages, labels and documents . Color shifting features can be used on a solid black background, white background or gradients. Multiple layers of security is applied in a single step when used in combination with KODAK TRACELESS Markers. To read more on this product visit their site by clicking:
http://graphics.kodak.com/US/en/Product/Security_Authentication/Products
20) INKSURE taggants mixed with the ink can be applied to every medium like polymeric foils, plastics, paper, natural/synthetic fabrics, metal, glass, wood, ceramics and more. The exceptional durability of INKSURE taggants can withstand harsh wear-and-tear conditions. The presence of the taggant in the print can be verified by a custom prepared hand held device. This feature is reportedly used in flexographic printing for pharmaceutical product labels and on their cartons. To read more on this product visit their site by clicking:

21) As a banknote and security paper manufacturer, Giesecke & Devrient has introduced innovative security features such as the following.
FEEL

called Fast Energ

y

Effective Inks (

Special Effect Inks

)

is an interactive security feature for banknotes. The printed color undergoes a clearly visible color change as soon as it is exposed to heat.

The warmth of your fingertip is enough to alter the color at a specific location on the banknote.




PEAK

called Printed Embossed Anti copy Key (

Intaglio printing

) combines offset and intaglio printing. Fine lines produced in a special engraving method are embossed to produce a three- dimensional, optically variable image. The color and information changes according to the viewing angle and light direction. Users can feel the tactile embossing with their fingers. These effects cannot be replicated by a color copier.
FIT latent (

Intaglio printing

) – the new generation of latent images offers digital image flip on a 3D background.

Tilting the banknote changes the image, making two different motifs visible.

FIRST

(Covert security feat

ures

)

uses a laser to create hidden codes on the printed banknote. These are invisible to the human eye and can only be read under an infrared light.
STEP

called Shimmery Twin Effect Protection

(

Special Effect Inks

) is an optically variable ink that produces two different color effects from different viewing angles.
FIT

called Fine Intaglio Technology

(

Intaglio printing

) is the first-ever steel engraving method that can produce ultra-fine lines. This high-resolution technology enables the creation of novel security features that are unparalleled in terms of design and quality.
LOOK (

Laser Marking

) is a laser marking method that uses ultramodern laser technology to individually adapt established security features and thereby create new ones.
Using the feature – known as

INFACIO

– passport photographs and text can be protected against tampering. According to the company: "Each passport holder's personal data can be printed in the passport using a special ink that remains invisible in normal daylight, but which can be revealed under ultraviolet lighting. Read more info in the two links:
22) In order to incorporate security feature in the labels affixed on the fuel filters which is fitted on parts generating high temperature at 120 to 200 degrees Celsius and getting fuel and water on the label FORGE GUARD® has been developed by Fuji films Ltd. The FORGE GUARD® has high anti-counterfeiting feature and it is only manufactured in Fuji film. Read more info in the link :
23) Developed by 3M™ , a new feature called the color floating image is a non copyable, non reproducible feature . They are based on the unique construction and covert security features that enhances security and is easier to verify without using an authentication tool. The Color Floating Image is a customized image that dramatically moves and appears to "float" above and sink below the surface of the document. This is used on ID Cards etc.
Read more by clicking :
SOME OF THE

SPECIALIZED

PATENTED
SECURITY FEATURES OF FIRMS
AT A GLANCE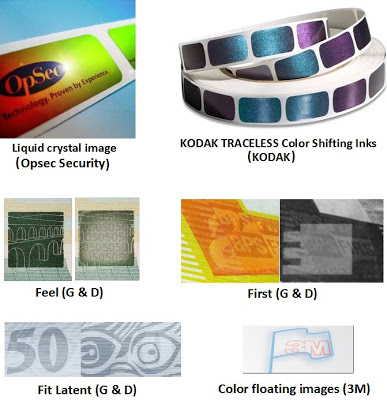 While much of the security features mentioned under Serials 1 to 16 are meant for the security documents like currencies, bank notes, postal stamps, passports etc, they are not applied on brand protection labels, cartons and labels produced for the mass selling unique consumer products, spare parts and Pharmaceutical products (labels) etc due to the high cost involved in producing them. The commercial print documents for consumer and Pharmaceutical products, the brand protection labels etc at best may have micro lettering, OVI, OVD patches, taggants and invisible inks. The high moving, well established and reputed consumer products of years of standing get customized security features for their labels that are not easily copyable. Such feature includes holographic designs, invisible text which can be read only with special gadgets, and special inks that glow under certain lights.
………….to be continued