Origin and growth of Bank Notes and Currencies – 7

Origin and growth of
Bank Notes and Currencies – 7
(

Written by N.R. Jayaraman

)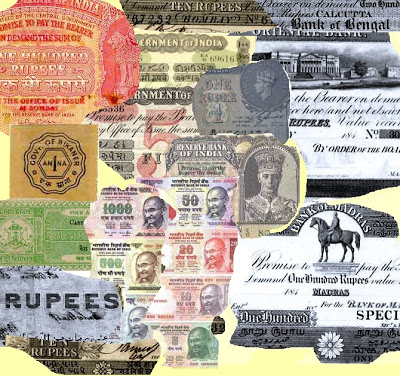 In the Currencies issued prior to 1871, with regard to the design elements, some of the Currencies carried the Portrait of Queen Victoria in the obverse ( Front side), the others had no such portrait on the front side. The currencies were printed in single color. No intricate or even ornamental designs were also seen. The currency values were printed in only two languages besides English.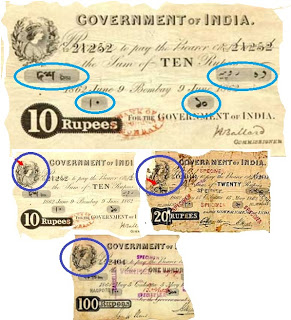 In the Currencies issued later either the Numerals like numerals 5, 10, 100 or 1000 indicating the Currency value or the currency values in words like Ten, Twenty and Fifty were predominantly placed in the center of the Currencies or printed as under print (print below another overprinted design) as though they were part of design elements.
In link with the language panel, some of the Currencies also show the value of the Currency in nine language numerals. Those Currencies have been printed in two colors along with design elements. While the value of the Currencies – whether in Numeral format or in words- have been printed in Green color in the initial set of Currencies issued, the later editions carried the same in Red Color as part of design change. Again neither watermark, nor security thread is seen in any of these Currencies.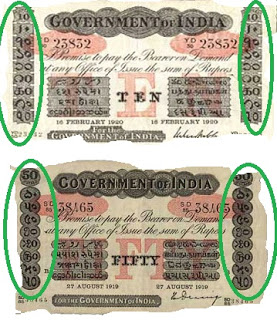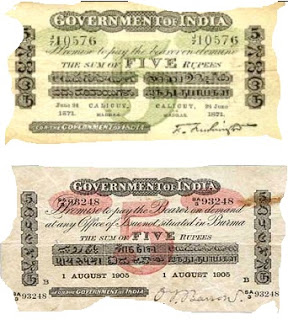 In some of the Currencies issued, the printed serial numbers are in two places, in some Currencies it was seen in three places, while in some other Currencies the serial numbers were found printed in four places. It is not clear as to why so many serial numbers were printed in one side of the Currency itself ?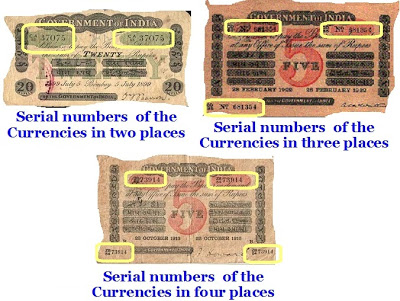 During the British rule in India few places in India were also under the control of Portuguese and French rulers. While Goa was under the rule of Portuguese, the regions like Pondicherry, Chandernagor, Karikal, Mahe and Yanoan were under French rule.
Paper money called Rupia has been issued in Goa by the Portuguese for the first time somewhere in the year 1882 or 1883. The 20 Rupia Currency (Shown in the Pink box) is reportedly issued as a booklet instead of loose and has been issued in the name of 'Junta de Fazenda Publica' (Department of Public Finance) as can be seen printed on top of the Currency. The remaining issues in 1888 mention the name of issuer as 'Government of the State of India' (Governs Geral Do Estado da India). Both the issues incorporated a profile portrait of Dom Luiz I, the king of Portugal.
The Currencies were called 'Uma Rupia' meaning One Rupia, 'Duas Rupia' meaning Two and half Rupia, 'Cem Rupia' meaning hundred Rupia and so on. The uniqueness in the Serial nos printed on these Currencies. While the Currencies has Serial numbers printed at two places, one more Serial number has also been printed in decimals – three digits , dot followed by further three digits i.e 137.837