An analysis on Printing and circulation of Paper Money – 8

Circulation of Paper Money via-a-vise
printed and processed
-Analysis-
( Written by : N. R. Jayaraman)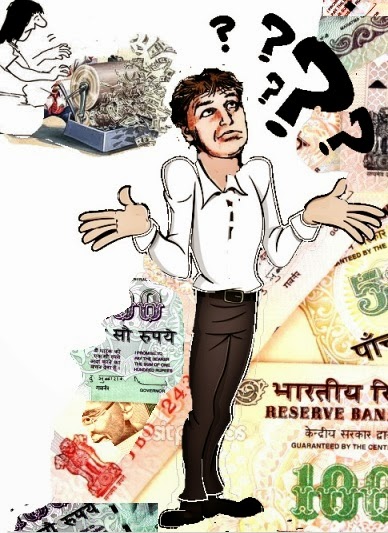 –
8

–
Another interesting finding by this author who whenever toured places, studied the demand pattern of Bank Notes in rural and urban areas in India found that the denominational requirements varied with merchants and salary earners. The small time merchants preferred more Coins and lower valued Currencies while the medium to high term merchants desired Bank Notes of higher denominations for easy transactions. The Salary earners preferred more of Rs 100/-, Rs 500/- and Rs 1000/- denominations while handling cash, but mostly used Cards for transactions. It would not be surprising to note many small time traders do not have even bank accounts as their income was low. Uniformly there was less takers for Cards in small time merchants unlike traders in European and Asian Countries who preferred transaction by card however small or big business they represented. May be their behavioral pattern was due to adapting such a culture- i.e use of electronic media or Card transaction- over years.
Even very recently the author noticed that a big lot of migrated Nepali workmen and labourers carried huge cash with them ( their income kept with some chit funds ) whenever they returned back to their native places. They said that the only Indian bank that transacted transfer of Indian money to Nepal was State Bank of India, which charged hefty transfer charges with several formalities involved! Therefore they avoid bank transfer of money. The reason to quote this information is to indicate that the growth in demand pattern of Bank Notes could have been higher in India due such of such several factors.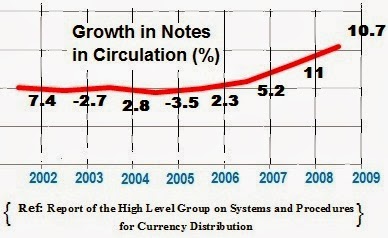 If we see the use of various denominations over the period from 1970, we can find that the requirement for various denominations have undergone tremendous changes. The period from 1970-2013 is divided into four decades ( each 10 years) and trend analyzed. It will show that the requirement of middle valued denomination like Rs 5/- and Rs 10/- has not diminished much because this denomination is the most preferred for all kinds of transactions as handled by the small traders along with Coins like 1 and 2 , especially in rural areas and villages.
Demand for Rs 100/- and Rs 500/- has been on upswing reducing the handling of Rs 50/- denomination and preferred by salary earners, medium level traders and consumers at large, especially in urban areas. Rs 1000/- denomination is slowly catching up during 2000-1013 when more and more ATMs were put in use and much of the ATMs dispenses more of Rs 500/- and Rs 1000/- denominational Notes. Very few ATMs dispenses Rs 100/- denominational Notes. The overall picture indicates that the combination of Rs 10/-, Rs 100/- and Rs 500/- denominations are preferred by consumers in general more than other denominations.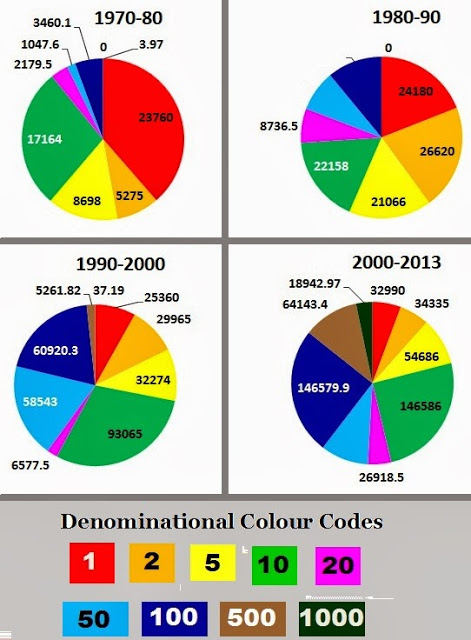 (

Ref:

Graph prepared based on figures taken from the
Database on Indian Economy/ Time series publications/
Hand book of Statistics on Indian Economy/
Notes and Coins issued / Table 159)
Another interesting factor to be noted is how much money is held by the public out of the circulated Notes? When we compare the Notes issued/ circulated from 1970-71 to 2012-13 along with the data on Currency with the Public, it is evident that nearly 7 % to 9 % gap exist between circulated Notes and Notes with public. From 1970 to 2013 the total quantum of Notes circulated was 90167.66 billion rupees while the Currencies with public was 82798.84 billion rupees. This further strengthens the view that more liquid Cash in the form of Bank Notes are needed in a vast Country like India.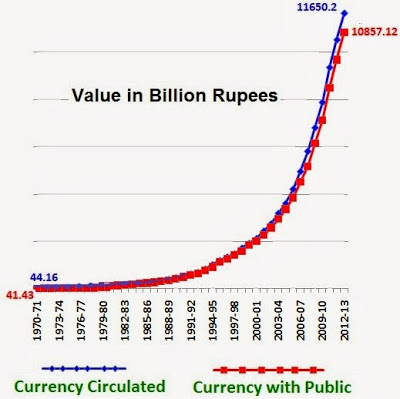 (

Ref:

Graph prepared based on figures taken from the
Database on Indian Economy/ Time series publications/
Hand book of Statistics on Indian Economy/
Notes

and

Coins issued / Table 159
and Average Monetary Aggregates /Part-1

– Annual Series

/Table 45)
Throughout the period from 1970-71 till 2012-2013 the gap between the total circulation of money vs the money with public has been hovering around 7 % to 9 % in between in terms of value in billion rupees. There could be error factor in calculations to the extent of 0.5 %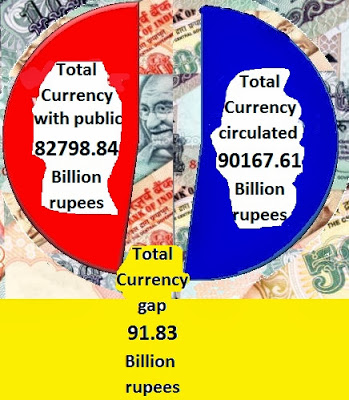 (

Ref:

Graph prepared based on figures taken from the
Database on Indian Economy/ Time series publications/
Hand book of Statistics on Indian Economy/
Notes

and

Coins issued / Table 159
and Average Monetary Aggregates /Part-1

– Annual Series

/Table 45)
…………..Continued :8