Polymer Substrate for Bank Notes

Polymer Substrate

in place of Paper substrate for Bank Notes and Currencies
(Written by : N.R. Jayaraman)
In the last two decades the Central Banks across the globe that issue Bank Notes and Currencies have started thinking of replacing the 100 % cotton based paper substrate with that of Polymer substrate for printing the Bank Notes and currencies. While over 30 countries have already gone in for polymer substrate Bank Notes and Currencies in one denomination or the other, several other countries too have started examining the proposal to put to use Plastic currencies as the life span of Bank Notes will be higher compared to conventional Bank Notes.
Today the countries that are known to use Polymer substrate for printing their currencies include Australia, Singapore, Brunei, New Zealand, Papua, New Guinea, Romania, Vietnam, Fiji, Mauritius, Canada, Israel and Kuwait etc. As per the information the latest that are contemplating to join the club of polymer substrate for Bank Notes are India and Switzerland. It is still not known when will these two countries will release first of their polymer Bank Notes. However the following news published in the Times of India gives an idea in respect of India's position on Polymer Bank Notes.
RBI to introduce Rs 10 polymer notes on trial basis
……………The Reserve Bank of India (RBI) will execute a union government's mandate to introduce plastic/polymer currency note of Rs 10 on a field trial basis in five cities in India. Depending on the success of the move and how these notes work, the RBI will then decide on the next denomination of such notes that have to be brought out, KC Chakrabarthy, deputy governor, RBI said. "It will not be tomorrow. There is a process involved," he said.
In an informal chat with reporters on sidelines of first ever 'Town Hall' meeting organized by RBI in association with Corporation Bank in Karnataka here on Tuesday, Chakrabarthy said, "The process of introducing plastic notes has commenced. Tenders have to be called," he said, without sticking to a time frame when these notes to be introduced in distinct geographical regions of the country identified by the apex bank will become a reality.
Incidentally, Minister of State for Finance Namo Narain Meena in written reply to the Rajya Sabha in March had said RBI proposed to conduct field trials of Rs 10 polymer banknotes in five cities – Simla, Kochi, Jaipur, Bhubhaneshwar and Mysore. The field trials will be carried out in these places keeping in view the varied geographical locations and climatic conditions there. Plastic notes have relatively longer life compared to the prevailing paper banknotes ………….
Polymer substrate is made from biaxially oriented polypropylene (BOPP) which is a non-fibrous and non-porous polymer. Compared to paper substrates, Bank Notes printed on BOPP are harder to tear, more resistant to folding, more resistant to soiling, and remain waterproof. Further they are easier to process on the machines. The other advantage is that the substrates are shreddable and recyclable at the end of their life span thus eliminating environmental and pollution concerns. Additionally some of the security features that are not printable on paper substrates can be incorporated in the polymer substrate which is also cost effective and reduce the production and replaceable costs compared to the paper substrate.
In the history of Bank Notes printed on Polymer substrate , to my knowledge the substrates such as Tyvek®, Guardian®, Bradvek an improved version of Tyvek, Durasafe ®, Hybrid™ and Synthhec® have only been used for printing the Currencies and Bank Notes.
Prior to the invention of Polymer substrate for printing Bank Notes and Currencies, the central banks around the world desired the invention of some substrate which will have both polymer and cotton in combination so that the longevity of the currencies will not only increase even under extreme climatic conditions, but at the same time be able to take on the same printable features of paper base substrate and cost effective. Therefore the paper manufacturers while inventing long lasting and more secure substrates in place of paper substrate also realized the need for cost effectiveness without compromising the possibilities to print the time tested security features as printed on cotton based substrate banknotes .
The aspirations of the Central banks were very clear and simple. Any rational change in the substrate for printing the Bank Notes will be a welcome step, but it should be possible to retain the traditional printed security features such as intaglio printing, offset and letterpress printing, water mark, security thread, OVI, latent images, micro-printing, and intricate background patterns applied on paper substrate. Such prints applied on polymer substrate should not get wiped out during circulation. If additional features could be incorporated on polymer substrate, it would be gladly accepted.
In this direction some attempts made to over coat the bank note printed sheets with thin layer of varnish or to laminate the sheets with a thin layer of film before processing the sheets into notes for circulation did not meet the expected level of increased lifespan, but also caused several other technical problems.
Right from 1960 onwards various paper manufacturers tried to develop long lasting alternative material essentially based on plastic to replace the pure cotton fiber substrate on which the Bank Notes and Currencies are printed.
As early as in 1960, Australia's national science agency called CSIRO, which is one of the largest and most diverse research agencies in the world had taken up the project of development of polymer substrate for printing Bank Notes in collaboration with the Australian Govt. In the year 1967, concerned with huge quantity of forged Australian $10 currencies in circulation, Reserve Bank of Australia (RBA) in collaboration with CSIRO decided to speed up the experiment of alternative substrate to paper substrate to print Bank Notes which will not only have longer life, but also remain difficult to reproduce or copy.
As the experiments in the direction of innovating plastic based substrate for printing Bank Notes and Currencies were underway in Australia, in the year 1980, DuPont an US firm in joint venture with American Bank Note Company (ABNC) developed polyethylene fiber based substrate to replace the paper based currencies. They were successful to the extent in producing trial based Bank Notes printed on Tyvek®, a polymer based substrate ,which was expected to have longer life span than paper based substrate and at the same time susceptible to the acceptance of various special printing inks without getting erased from their surface during circulation.
Sometime in 1980, the Tyvek® substrate was first used on the currencies of Rupublic of Haiti, a country under French Governance to produce the lower denominational Bank Note. The trial based exercise was taken up by both Costa Rica (Republic of Costa Rica is a country in Central America) and Isle of Man (Small Island between Great Britain and Iceland) in the year 1983. Only Costa Rica and Haiti issued Tyvek® banknotes. ABNC printed test notes for Ecuador, El Salvador, Honduras and Venezuela but it appears that they were never placed in circulation.
Though the plastic currencies produced on Tyvek® found broader public acceptance who actually welcomed the shift, on the technical side there were several problems. The first of the problems associated with plastic substrate was reported in Haiti printed Bank Notes. In around 1980, the central bank issued a 50 gourde currency printed on the Tyvek® substrate manufactured by DuPont. The currencies did not meet the physical properties anticipated besides causing huge problems on ink adhesion on surface, ink wear and delamination as noticed during circulation. Tyvek® did not perform well in trials and smudging of ink and fragility were reported. After few years the condition of notes put in circulation were found faded, smeared and looked like forgered ones. The project thus was a failure. Also the anticipated level of drastic saving on cost did not materialize. Therefore the project was abandoned as not satisfactory.
Since Tyvek® substrate did not found much favor, an improved version was used by Bradbury Wilkinson & Co for printing one of the polymer banknotes under the brand name Bradvek for the Isle of Man in the year 1983 replacing the currencies printed on Tyvek®. However even Bradvek substrate notes were found acceptable reportedly due to certain other technical problems.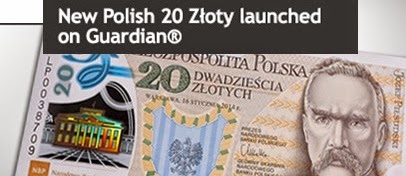 Finally at the end of 1980 , the Reserve Bank of Australia were successful in developing a new polymer substrate intended to improve banknote quality. This plastic substrate called Guardian® was first used in 1988 for the Australian ten dollar commemorative note, which also incorporated a
a see through window with a

foil element called Optically Variable Device (OVD). However, this foil feature turned out to be sufficiently not durable and alarmed with the extent of public interference with the OVD, the notes were withdrawn and never re issued. So the central bank printed its next denomination, the five dollar note, on plastic and replaced the foil with a white printed element. Australia gradually switched its entire series to polymer notes from 1992 onwards.
The substrate Guardian® is manufactured by a firm called Securency International, a division of Innovia films under an agreement with Reserve Bank of Australia. These were also rolled out in smaller neighboring states around the same time. Innovia Security is the supplier of Guardian® substrate to other countries. It is learnt that over 24 central Banks spread in Canada, Chile, Costa Rica, Israel, Malaysia, Mexico, New Zealand, Paraguay, Romania, Singapore, Vietnam, Guatemala, Brunei, Mauritius Nigeria, Hong Kong etc have adapted Guardian® for the production of some of their Bank Notes and Currencies.
Guardian®

consists of three major elements. They are the base film called 'Clarity®C' the opacified print layers that enable offset and intaglio inks to adhere to the substrate, and security features that are either printed or embedded in the 75µ deep substrate. Clarity®C is base film that forms the foundation of Guardian® polymer banknote substrate. It is a high performance, biaxially oriented polypropylene film, ideally suited to banknote production.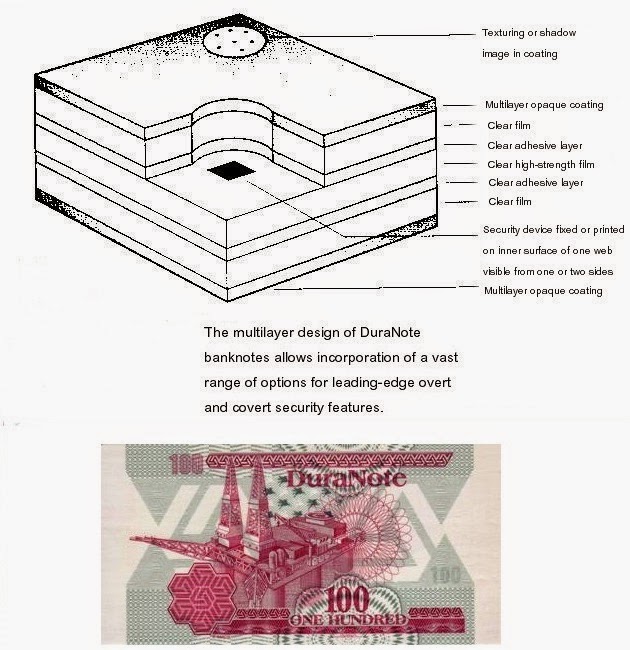 On the other side, in the year i.e 1980, Canadian engineering company AGRA Vadeko and US chemical company US Mobil Chemical Company in a joint venture developed a polymer substrate trademarked as DuraNote. DuraNote offered advanced counterfeit protection. One sheet of Duranote consisted of twenty one ultra-thin layers of OPP film, adhesive, coatings and printable surfaces. The field trials claimed that it had four times more life circle than the conventional paper substance and stayed crisp and did not dirty easily. These properties translated into reduced printing costs. In addition the manufacturers claimed that clear plastic window provided in each note along with choicest embedded security features would make the copying of notes very difficult. It had been reportedly tested by the Bank of Canada in the 1980s and 1990s, and test notes were printed for twenty one countries in regular currency printing plants with the same designs as per the regular Bank Notes. They were reportedly put for field test from the year 1997 besides testing by eminent security printer like Bureau of Engraving and Printing of the United States Department of the Treasury.
What exactly is
Polymer substrates and their

the quality which is proposed to replace the paper substrate to print Bank Notes and Currencies? The substrate proposed is not pure plastic material, but is a combination of Cotton and Polymer substrate. The development is combining polymer and cotton to prepare the substrate sheets.
One approach is to use cotton on the outside with a core of polymer in the centre. The other is the reverse of it, i.e cotton inside with a core of polymer on the outer. These material retain the feel of paper with the polymer core providing mechanical strength.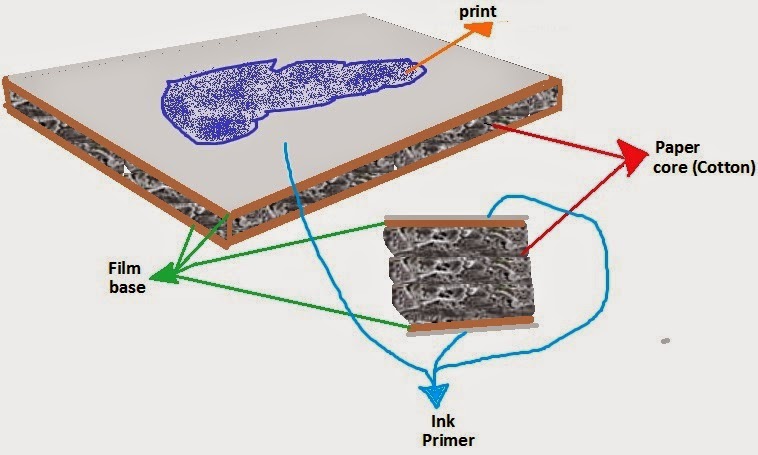 Structure of Polyester based substrate
An alternative approach is a cotton paper core protected on each side by thin film layers. The film layers provide protection against soiling and tearing. Both approaches enable common banknote paper features such as watermarks and threads to be used.
Giesecke & Devrient GmbH, parent company of Louisenthal Paper mill in Switzerland, recognized this potential and started to develop a completely new banknote substrate that would combine the benefits of cotton and polymer. In 2008, G&D launched this pioneering substrate called Hybrid™. The G &D produced substrate is a sandwich material composed of paper inside and polymer on the outside .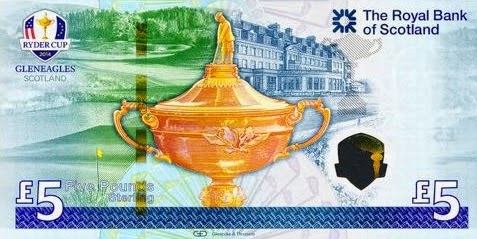 The first ever commemorative banknote on Ryder Cup, Europe issued by the Royal Bank of Scotland (RBS) used the Hybrid™ substrate including substrate embedded features. The Royal Monetary Authority of Bhutan (RMAB), Bhutan's central bank, has reissued its two lower denominational banknotes using Hybrid™, a paper/polymer substrate made by Louisenthal. The Bank of Jamaica issued a new series of banknotes in 2012. The $100 Jamaican note is made of the Hybrid™ substrate. The notes were printed by Giesecke & Devrient.
HybridTM banknotes are ideal for challenging conditions. By uniting cotton and polymer banknote technologies, we have succeeded in creating a perfect composition. HybridTM banknotes combine proven security with a considerably longer service life – and the result is a banknote that is slow to soil, does not become limp, and yet still enjoys the trust of the population because of its similarity to the well-known cotton banknotes.
As per Louisenthal mill statement:-
"Hybrid™ brings the advantages of paper banknotes and polymer banknotes together in an innovative combination of protective polyester film around a cotton fiber core. Already proven in circulation on three continents (Africa, America, Asia), Hybrid™ banknotes combine security with durability and ensure public acceptance.
Hybrid™ 's core can be exclusively customized with embedded watermarks, security threads, and machine-readable elements to ensure the banknote substrate is secure against counterfeiting. Due to its polyester film, Hybrid™ banknotes are durable, remaining clean and stiff even in extreme circulation conditions. Printing on Hybrid™ enables exploitation of the full potential of security features and intaglio printing to provide the trusted touch and feel of banknotes"
– Unquote
G & D also manufacture 20 % synthetic fiber mixed paper substrate which of course is not polymer substrate. According to G & D 'Synthec®' is the enhanced durable banknote substrate for improved quality throughout the banknote's lifetime. The synthetic fibers and 'LongLife' protective coating of Synthec delivers an optimized combination of outstanding mechanical stability, stiffness, and anti-soiling properties'.
As per the latest news the new Swiss banknote series is set to be printed using substrate called Durasafe® manufactured by Fortress paper operated through Landqart mill, a Switzerland based paper mill as invented in collaboration with the Swiss Federal Institute of Technology (ETH) Zürich. The same substrate appears to have been already used on one of the Bank Notes issued by Morocco. Landqart produces banknote, passport, visa paper.
Quote:-
*
"The DURASAFE® is the innovative new composite paper-polymer-paper banknote substrate from Landqart AG. It is the platform for the world's most secure banknotes. DURASAFE® is composed of two cotton paper outer layers with a fully transparent polymer core. The paper is high security cylinder mould made containing a watermark and security fibers and other traditional security features including easy to recognize Bank Note Paper tactility. The polymer core adds strength and security, while allowing windows to be formed virtually anywhere on the banknote. Windows are formed to look into the core of the substrate, or directly through the substrate"
-Unquote
De La Rue is the world's largest commercial banknote printer and Printing machineries and equipments manufacturer whose products have been supplied to several Central bank print units in various countries.
De La Rue

has launched
Safeguard
®

, a polymer substrate similar to Hybrid and Durasafe substrates, but has differently processed substrate.
Safeguard
®

is the result of an intensive four year development programme that started when some of their customers were eager to have polymer as a substrate instead of paper substrate and were looking for an alternative source of supply.
According to a De La Rue press release dated 18 November 2014, the Central Bank of The Gambia will introduce a 20-dalasi banknote before the end of 2014 to commemorate 20 years in office for President Yahya Jammeh. This note was designed and printed by De La Rue on Safeguard
®

polymer substrate.
Polymer banknotes are banknotes made from a polymer such as biaxially….. issue a 20 Dalasis banknote printed on De La Rue's Safeguard
®

polymer substrate.
The Banque du Liban has launched a new commemorative polymer banknote produced on De La Rue's Safeguard
®

polymer substrate.
The 50,000 LBP note has been issued to celebrate the 50th anniversary of the founding of the Banque du Liban. The new Commemorative polymer banknote is issued to celebrate the 50th anniversary of the founding of the Banque du Liban.
Over the last 20 years we have developed more than a dozen polymer banknote designs, produced more than 30 million polymer banknotes, built knowledge and understanding of design and print process and developed polymer feature patents.
To read complete details of Polyester notes issued by various countries year wise click on this *