Two interesting news on currencies

Read below two interesting news on Currencies and Bank Notes as published by two leading National Daily News Papers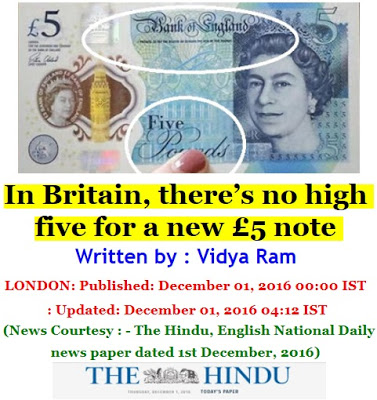 Vegans, religious groups protest use of tallow to produce 'longer lasting' currency
A new £5 note issued by the Bank of England has generated concern and anger among religious groups, vegans and vegetarians after it emerged that it contained traces of animal fat.
The note entered circulation in September, but its controversial content became known only on Monday after the Bank of England responded to a question on Twitter confirming that there was a "trace of tallow in the polymer pallets used in the base substrate of the polymer £5 notes."
"Tallow is derived from animal fats (suet) and is a substance that is also widely used in the manufacture of candles and soap," the central bank said in a statement.
An online petition asking the bank to cease using animal products in its notes quickly gained support: more than 90,000 people had signed the petition to be delivered to the Bank of England by Wednesday. The notes, the petition started by Doug Maw said, were "unacceptable to millions of vegans, vegetarians, Hindus, Sikhs, Jains and others in the U.K."
"We demand that you cease to use animal products in the production of currency that we have to use," it said. More to come
The new note is the first of a series based on polymer being issued by the central bank, as part of a drive to make notes that "last longer, stay cleaner and are harder to counterfeit than paper notes." The bank conducted a consultation on the switch to the notes in 2013, and there is even a website devoted to it: thenewfiver.co.uk. New £10 and £20 polymer notes are due to come out in 2017 and 2020 respectively.
The bank estimates these notes last 2.5 times longer than paper.
On how Indian groups see the issue, Poonam Joshi, founder of Indian Ladies UK, a networking organization for first generation migrants, said, "There is huge disappointment, shock and anger among our members, especially those who are vegetarians, Jains, Hindus and Sikhs." "Thousands have already signed the petition." "This country is very stringent about mentioning everything on the label and yet it took two months for this finding to come to light," she added.
Trupti Patel, president, Hindu Forum of Britain, which represents over 300 Hindu organizations, was surprised at the move.
It contrasted with the largely inclusive and sensitive approach of U.K. authorities towards concerns of faith groups, she said.
Ms. Patel said she believed the inclusion of animal fat was simply an oversight. "I think it's most likely a mistake. When you develop something new and its animal content doesn't matter to you, you just don't think of it."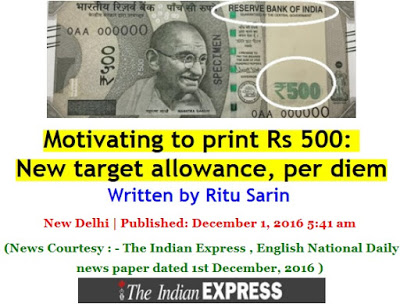 Away from the crush of long queues and a daily cash crunch that's expected to exacerbate the crisis come Pay Day tomorrow, an estimated 3,000 workers in the security printing presses in Dewas, Madhya Pradesh and Nashik, Maharashtra are hard at work. And have been incentivised for churning out a record production of Rs 500 notes. Days after the November 8 announcement, the long two-hour lunch break has been done away with at two presses of the SPMCIL (Security Printing and Minting Corporation of India Limited) and workers now get a daily group lunch incentive — the lunch break has been staggered; the printing never stops with a per diem allowance for extra time thrown in.
In the SPMCIL presses in Dewas and Nashik which have until now taken the burden of exclusively printing the new 500-rupee notes, workers have been given a "target allowance"—marked up March 2017 — which may, roughly, translate into Rs 10,000 extra as monthly emoluments.
Besides this, top SPMCIL officials say they have also cleared the long-pending demand of senior staff at the security presses for a productivity linked pay package which is expected to be announced shortly. This special allowance will annually add another Rs 20,000-30,000 to the pay package of managers and senior supervisors.
As a top SPMCIL official put it, "The workers have been motivated and told they too are in a war-like situation. That the entire country is waiting for the Rs 500 currency notes they are printing."
As a result, officials said production of Rs 500 notes has gone up these past two weeks from 6 million pieces a day to 10 million a day at Dewas and from 3 million pieces a day to 5 million pieces a day at Nashik.
Except for delivery to adjoining cities, the cargo of currency is now being airlifted and rushed to the 4,400 currency chests across the country.
The almost frantic printing cycle for Rs 500 notes has resulted in some obvious and some unnoticed changes. For one, there are frequent breakdowns of machine, which officials admit, have been badly in need of overhaul for years. Also, tenders are being issued by SPMCIL on a daily basis. For example, over the past few days, tenders have gone out for the purchase of thousands of gunny bags for huge consignments of chemicals and installation of CCTVs and access-control systems at the presses.
Top officials told The Indian Express that as of now, despite the spike in production of Rs 500 notes, they have not yet resorted to emergency import of currency paper since sufficient stocks are available. The only urgent import that has been effected is for OVI (optically variable ink) from the Swiss firm, SICPA, which gives the Rs 500 currency another of its anti-counterfeiting features.