Guide to Students in Printing — 31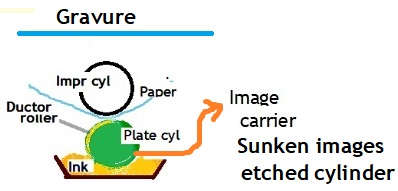 Guide to printing students
-Few objective Questions and answers-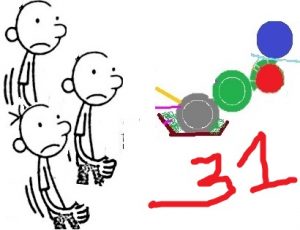 Written by : N.R. Jayaraman
121) What is  image carrier ?

The image carrier is the one which hold the composed matter, blocks, plates or rubber stereos etc  to give impression on to the paper on the printing machines.

122) Explain briefly the various forms of Image carriers and mode of transfer of impression on to the paper.

The composed matter and blocks are used as image carrier in Letterpress printing. The text is printed with composed matter and the illustrations through blocks. The blocks are made of Zinc or Aluminum plates or photo polymer plates and mounted on the wooden blocks having type height 0.918". The main texts are composed by Hand composing, Linotype composing, Mono type composing or Ludlow composing processes.

Composed matter is in reverse and relief format. The blocks with text matter locked in the  frame is loaded on the machine. The ink rollers ink them and the inked image is transferred on to the paper in direct contact and pressed by the impression cylinder to transfer the image.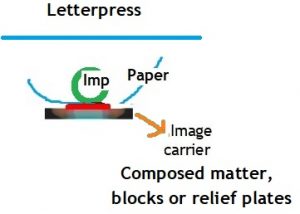 For Thermographic printing to, blocks or composed matter are used as image carrier which are in relief and reverse format. The inking and impression transfer process is same as that of Letterpress. After printing, the inked image on the paper is dusted with a special powder and heat applied over it by special device. The powder swells with heat to give relief image on the print.
For Wet Offset printing Zinc, Aluminum, Photo polymer, Bi metal and Tri metal plates are used as image carriers. Images are in readable format, not raised or sunken but on same plane with plate surface. For Dry Offset the image carrier is relief imaged photo Polymer plates. In both the process the  inking rollers apply ink on to the plate which is transferred on to the blanket from which the inked image is transferred on to the paper when pressed by an impression cylinder.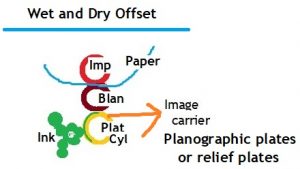 On Digital printing, the image carrier is either the selenium plate or drum on Xerographic printing  machines or the software image stored in the hard disc of a computer. While the software activates the inkjets or other ink spray units fitted on the printer to release the ink dots or ink spray to form the image  on to the paper directly without intermediary drums of plates to carry the images for transfer or pressed by impression cylinder on Digital printing machines, on Xerographic printing machines, the image is first formed on to the selenium plate or drum which transfer the image on to the paper by electrostatic process.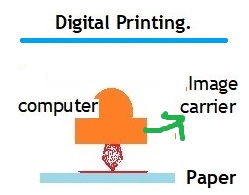 For Gravure the image carrier is chrome plated Cylinder. Images are in reverse format and sunken pits (in depth) below the cylinder surface.

The cylinder rotates inside the ink tank from where the engraved image pits gets filled with ink. While rotating, the ink from non image areas are wiped out with Ductor (Doctor) roller. The ink on the sunken image is directly transferred on to the paper when gets pressed by an impression cylinder.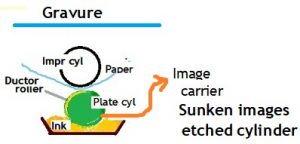 For Intaglio, the image carrier is the plate cylinder which carry the engraved image in recess and reverse format on a chromium plated plate and transfer them on to the paper directly when pressed by the impression cylinder. Ink is supplied from ink duct and excess ink wiped out with a specially designed  wiping cylinder system attached to the machine.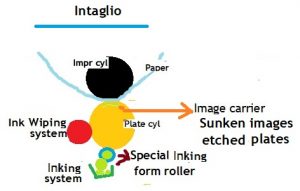 For Flexographic printing the rubber stereos or  photo polymer flexible plates are used as the image carriers. Images are in reverse and relief format and inked image transferred on to paper in direct contact when pressed by an impression cylinder.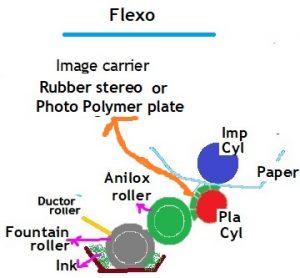 For Screen printing,  a meshed screen is used as the image carrier. Images are  open  on the mesh screen while the non-image areas in the mesh screen remain blocked completely. Inked image gets transferred on to the paper directly when squeezed through a squeezer on the mesh screen.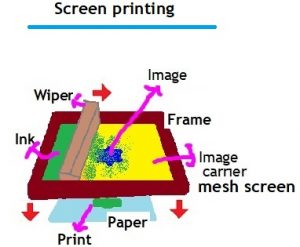 123) Briefly mention various jobs suitable for printing for various print processes:-
Letter Press:- All kinds of jobs with short run and which are not very large in size besides suit this process of printing. Books, Pamphlets, Brochures, Letterheads, Visiting cards, Advertisement material, Bill books, Invoices, Receipts and all kinds of printed Stationery items etc. This process is more suitable for printing on clay coated Art paper and other coated papers. 
Wet Offset:- The process can be used for printing on all kinds of paper, cardboard, plastic or other materials for packing, display posters, magazines and book work. The material to be printed are to  printed can be any kind  but not coated Art papers.
Dry Offset: – The process is used for printing on any paper, cardboard, or other printed materials for packing, posters etc as printed in Wet Offset but again not on coated Art papers as the print transfer is through blanket. Further this best suits the security print material such as currencies, bank notes etc.

Roto Gravure:- Gravure is meant for high volume work such as Food packaging wrappers, newspapers, Wall papers, Furniture laminates, wrapping material, Greeting Cards, weeklies, magazines, cartons, labels  and other packaging papers like Kraft paper. 
Flexographic printing:- Flexo is mainly used for packaging, pharmaceutical products like tablet and capsule packing strips, labels and also to a lesser extent  for newspapers. This is one of the best processes used for printing wide varieties of  packing material  including retail and shopping bags, food and hygiene bags, sacks, milk and beverage cartons, flexible plastics, self-adhesive labels, disposable cups and containers, envelopes and wallpapers.
Screen Printing: Letterheads, Visiting cards, Advertising material, small quantity of brochures, pamphlets, coupons, receipt books, fabrics etc. Advantage of screen printing is that the surface of the recipient does not have to be flat and that the ink can adhere to a wide range of materials, such as coated paper, garments, glass, ceramics, wood, and metal.
Digital Printing or Inkjet Printing:- For very small print order and instant copies in small no such as visiting cards, letterheads etc, this process is economical. Inkjet or other such devices in Digital printing can print on a wide range of substrates such as paper, plastic, canvas or even doors and floor tiles and other products like garments and even on material of any shape. Inkjet printing is used a lot for posters and advertisement materials. It is also economical for short run publications such as photo books or small runs of books, bill books, invoices, receipts and all kinds of stationery forms etc.
Pad printing – used for printing on 3-dimensional surfaces, pharmaceutical labels and wrappers etc.
Thermography: – This is more of a finishing process than an actual printing process. It produces raised lettering on the printed side of the paper like Intaglio and is used for wedding invitations, letterheads, business cards etc.