Survey on Excise duty Labels/ Stamps – 5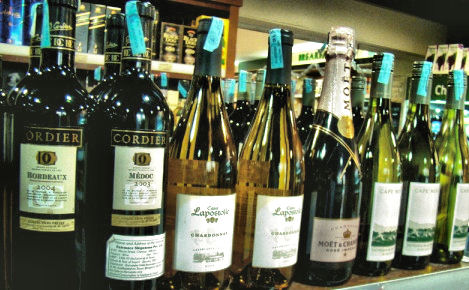 Part-5
Written by : N.R. Jayaraman
Uttar Pradesh
In Uttar Pradesh too Holographic Excise Labels are affixed on bottles irrespective of the Liquor. The stamps have unique code to match the year of issue. It also carry the UP Excise department Logo on the Labels. Here too the production cost per label is stated to be around 8- 8.5 paisa.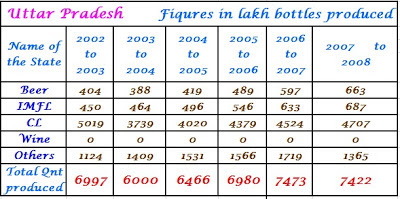 Going by the data it may be seen that the requirement has not been going up drastically and has been in the range of 7 to 8 % only.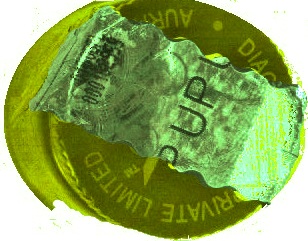 UP Liquor Excise duty Label
on a bottle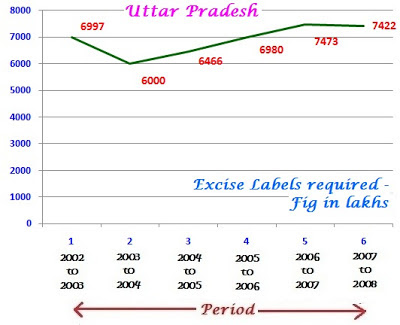 End Note:- As per one report in the year 2009-10, the state consumed 22.92 crore liters of Country Liquor, 9.17 crore liters of Indian Made Foreign Liquor (IMFL) and 9.03 crore liters of Beer. Based on the data available the following Chart has been prepared indicating the requirement of Excised duty Labels per month. Also the Specification for the Excise duty Label has been given which was seen in the Tender Document.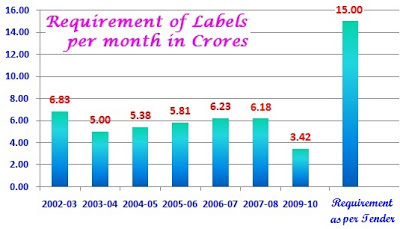 Specification as seen in the 2011-12 and 2012 Tender Document floated by Uttar Pradesh Excise department:-
Quantity :-

The total number of holograms to be supplied will be about 15 (fifteen) crore or more

holograms per month. The quantity may vary.
Type :- Master origination holographic features for high security master made on a secure system capable of generating high security masters with at least 1,00,000 dpi or more using dot matrix system with litho and 2d/3d effect which shall provide :-
Guilloche pattern

animated feature concealed animated image/text

2-d/3-d depth effect

Fresnel with litho effect

Color animated multiple image

Four channel effect at a single point

Pearl effect with hidden channel effect

Kinetic movement effect

Sparkle effect

Embossed text effect

Secret data.
Non holographic features :-
Tamper evident,

Multi colour

Hidden text/images 0n color changing background

Visible text/images/design 0n demetalised area

NR jet numbering

UV numbering

Serrated edges

Chemical etching
Coding on master :-

Specialized code by white and colored marking for "imfl" encoded in the subsequent copies of master for Indian made foreign liquor, "cl" for country liquor, "beer" encoded in the master for beer, "lab" for low alcoholic beverages "overseas" for overseas foreign liquor, beer & wine and "wine" for wine white and colored marking as mentioned above also for the year encoded in subsequent copies of the master.
Separate three digit coding has to be provided for different varieties of liquor as per their duty structure range
Specification of the hologram :-
Size of the 15 mm (width) x 60 mm (length) [rectangular with hologram serrated edges and round corners] – which can be applied both automatically and manually.

Type should have multi- colour with temper evident stamping foil and features suitable for automatic manual application over the neck and cap of the liquor bottles. The hologram should be as per the design approved and finalized by the department.

Colour of different multi color for different types of the liquor [IMFL, Country liquor, Beer, overseas (IMFL hologram Beer & Wine), lab and wine which will be decided by department from time to time.

Visible texts design on demetalised area texts; incorporated on hologram should be crisp & clear, design on readable by naked eye. The text/images will be decided by the department from time to time.

Demetalised area should be at least 8 mm (l) x 15 mm

The text image shall be in minimum i mm size.

Hidden text/ visual holographic design on top layer and hidden images on text/images on different colour background on colour second layer. The hidden colour should change at changing every 45° angle. This hidden feature shall be visible background only through a special Polaroid authenticity reader. The size of this feature should be at least i0-i2 mm length x 15 mm width.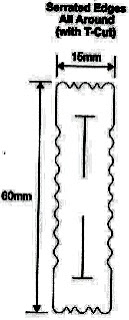 Specification of major raw materials :-
Polyester film

Type : ultra clear Emil grade

Thickness : 36 microns 5%

Printing : minimum 1.00 i 10% optical density coating

Metalizing : 2 micron 5%

Grade : food grade
Specification of the adhesive :-
Type : hot melt adhesive which can withstand the temperature of 70°c suitable for affixation partly on bottle cap and partly on the neck of the glass/ pet bottle.

Thickness : 22 gsm i 10%

Grade : food grade
……………to be continued