An analysis on Printing and circulation of Paper Money – 10

Circulation of Paper Money via-a-vise
printed and processed
-Analysis-
( Written by : N. R. Jayaraman)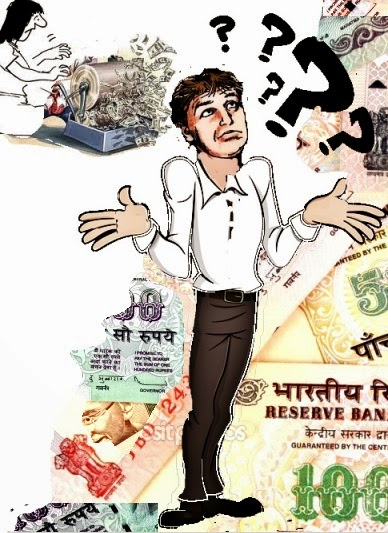 Like the throne in flesh, the sorting out process of Soiled notes in the banks and separating the good and bad prints during printing process involve big manual force besides taking much time whose expenditure is also not commensurate with the end product cost. Therefore such of the practices are slowly dispensed with automation processes have been introduced in several points in banks and presses to ensure that subjectivity in manual process is avoided and also quickens the processing time.

As per the RBI Annual Report 2011-13/ VIII-Currency Management " around 14.1 billion pieces of soiled banknotes (20.4 per cent of banknotes in circulation) were processed and removed from circulation during 2012-13. The number of banknotes withdrawn from circulation and eventually disposed of at the Reserve Bank offices increased over the previous year (2011-12) by 358 million pieces. During 2012-13, around 8.97 billion pieces were processed through 59 Currency Verification and Processing Systems (CVPS) and the remainder were disposed of under other modes".
See the quantum of soiled notes generated and disposed in the last six years to understand the how difficult is the production of Bank Notes and putting them to Circulation. Earlier the Soiled Notes were incinerated (Burnt inside a special machine) and disposed off which was taking too much of time. This process was also considered not Eco friendly and invited objections as the fumes generated by the incinerator was polluting the atmosphere. This was also one of the causes for the slower rate of processing the Soiled Notes. Therefore a new technique of cutting the bundles of Notes into small tiny pieces by crushing them in the Shredding machine and then to compress them into briquets in a briquetting machine has been introduced in the banks to hasten the process of disposing the Soiled Notes.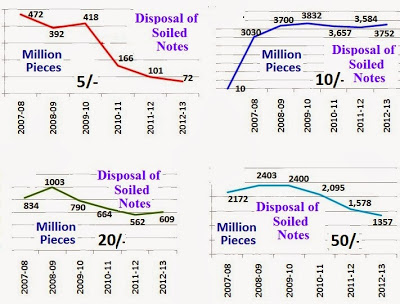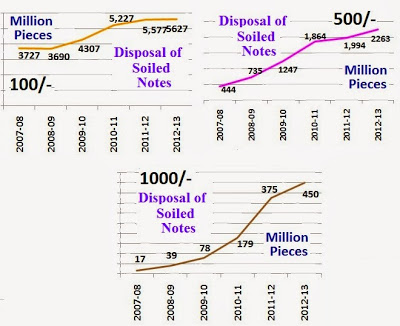 In this respect read the following News items from Business Standard News Paper that throws further light on soiled Notes.
February 24, 2011 Last Updated at 20:54 IST)

Stop re-circulation of soiled notes: RBI to banks
…………."Soiled notes may soon be a thing of past as the Reserve Bank of India (RBI) has asked all bank branches handling large amounts of currency to put in place note-sorting machines by the end of next month with a view to halting re-circulation of unfit currency notes.
The Reserve Bank is committed to a 'clean note' policy. RBI exchanges soiled notes for clean ones, and mutilated notes for new ones subject to certain conditions," central bank Governor D Subbarao said at the Convocation function of Sambalpur University here.
"In pursuit of our clean note policy and to check counterfeiting, we also prescribed that by March 31, 2011, all bank branches with cash receipts of over Rs 50 lakh per day be equipped with a note sorting machine so that every high denomination currency note is checked for fitness and genuineness before being put back in circulation," he said.
Furthermore, he said, the RBI has instructed banks to ensure that the notes that they issue through their ATMs are also pre-checked for genuineness and cleanliness.
He pointed out that cost and longevity are important dimensions of currency management. "We are a large cash economy; in fact, we are the second largest producer and consumer of currency in the world, next only to China. Producing such a large amount of currency is expensive," he said…………………..
Unquote–
Press Trust of India | New Delhi
May 13, 2013 Last Updated at 00:37 IST
RBI gears up for plastic notes as 20% paper bills get soiled
…………….As the Reserve Bank of India (RBI) gears up for a trial of plastic currency notes, it has to dispose of soiled paper currency bills worth an estimated amount of over Rs 2 lakh crore a year.
On an average, one out of five paper notes in circulation (over 20 per cent) gets disposed of every year after getting soiled and the number of such soiled currency bills stood at over 13 billion units during the financial year ended March 31, according to the latest data available with RBI.
The figures are not yet available for 2012-13, but the number of soiled currency notes has remained above 13 billion for at least three financial years.
According to RBI data, the total value of all currency notes in circulation stood at over Rs 10.5 lakh crore at the end of financial year 2011-12.
However, soiled notes valued at an estimated amount of Rs 2.05 lakh crore had to be moved out of circulation by RBI during that financial year………………"
Unquote–
July 16, 2001 Last Updated at 00:00 IST
Soiled Notes Eradication drive
…………….The Reserve Bank of India's (RBI) city office has embarked on the second phase of its campaign to eradicate the menace of soiled and mutilated currency notes of Re 1, Rs 2 and Rs 5 denominations from all parts of Gujarat, according to RBI regional director (Gujarat) V S Das.
Saying that the first phase of the drive launched last year was very fruitful, Das revealed that because of the campaign notes packed in plastic packets have disappeared from several places including Ahmedabad. A similar drive is already continuing in Bhavnagar, Rajkot and Vadodara and other centers such as Bhuj, Deesa, Gandhidham, Jamnagar, Junagadh, Porbandar, Surat, would be taken up shortly, he added.
Emphasizing that the central bank has also stepped up remittances of coins to various Gujarat towns having this problem of soiled and mutilated notes, Das said, "Public sector banks have also been urged to rise to the occasion and provide exchange facilities to the members of public at all their branches. In this connection, a letter has been sent by the RBI deputy governor to the chairmen of all concerned public sector banks. "Maintaining that it is necessary that people stop using and accepting such mutilated and soiled currency notes, Das advised anyone who comes across such notes should tender them for exchange at the counters of public sector banks or at the mobile counters specifically moving around in various districts of Gujarat.
Claiming that RBI is closely monitoring the drive and it is determined to solve the problem, he said that within the next few months entire Gujarat would be cleared of all the soiled and mutilated notes currently in circulation……………
Unquote–
January 5, 2002 Last Updated at 00:00 IST
RBI Preferring To Burn 90% Of Soiled Notes
……………Shortage of staff at its currency note examination sections and a higher amount of money in circulation are forcing the Reserve Bank of India (RBI) to incinerate soiled notes at a faster clip.
The RBI's two new mints have contributed to the large increase in the supply of fresh notes, while the capacity of its note examination section has declined.
There are as many as 4,000 currency chests in the country and 101 note examination sections.
RBI spokesperson Alpana Kilawala said the total number of currency notes in circulation has increased in the economy due to which more notes were getting soiled and were being returned to the note examination section.
Many such note examination sections were facing severe shortage of trained staff due to which such notes were straightway discarded/incinerated.
The increase in currency under circulation also means chests at all locations were full to the brim. So, replacing the old notes with new ones was the best option.
Commenting on the possibility of fake notes being replaced by real ones, Kilawala said, "The RBI has experts who are provided regular training and the possibility of fake notes evading detection is remote in any case."
RBI officials here said that as much as 90 per cent of notes deposited in the RBI currency chest were being discarded. In the process, fake notes were also being eradicated.
According to the report of the committee on currency management, soiled notes returning form circulation as the total of those received by RBI and those awaiting removal from chests rose from 6,300 million pieces in 1984-85 to about 7,000 million pieces in 1988-89.
As on date the figure is approximately 6,855 million pieces. At present notes with denomination Rs 1, Rs 2, Rs 5, Rs 10, Rs 20 and Rs 50 were being discarded…………….
Unquote

–

The procurement of several of the Raw material needed for producing the Bank Notes are elaborate and involve cumbersome process and procedures. Some of them being imported long term contracts are also involved for uninterrupted supplies. The process of printing Bank Notes is not just a quick act of Printing the Notes like Xerox copying on Photocopier machines and pack them for onward supply to RBI.
End to end, several procedures are involved to print and finish the Notes with several processes and prints from machines accounted by multiple cross checking points to ensure that the printed sheets do not disappear from the presses. The first multiple up print on blank paper from machine ending into packet of 100/1000 Notes in the other end takes a months travel in normal course. Under such cumbersome procedures it takes minimum 280-300 working days to complete the process of Indent supplies to the extent of 1800 to 2000 million pieces in several denominations. Therefore a long drawn plan required involving co-ordination between various agencies in RBI, Ministry, Presses and suppliers necessitates five year projections to plan out the procurement action. RBI has been attempting to streamline the entire issue concerning Currency Management in which the Paper Money Printing and issue are integral part.

– ANALYSIS CONCLUDED –