World's first ever sheet fed inkjet multi colour digital printing machine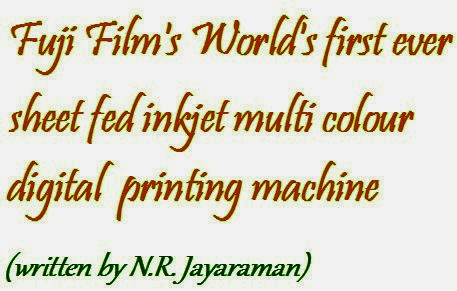 For the last 78 years Fujifilm has been continually involved itself in research and development in highly versatile fundamental core technologies. In the printing front Fujifilm has come out with the world's first ever sheet fed inkjet multi colour digital printing machine that produces full color printing with high speed offering benchmark productivity, print quality, and economics in cost. In the year 2005, Fujifilm bought Sericol Ltd., a UK-based printing ink company specializing in the inkjet, screen, and narrow web print markets and in the year 2006 Avecia Inkjet Ltd., a UK ink manufacturer of dyes used in inkjet printers was also acquired followed by the acquisition of Dimatix, a US manufacturer of piezoelectric print heads and fluid dispensing micro pumps in the same year. Combined with the three technologies, Fujifilm manufactured 'J Press 720' sheet fed production inkjet printing machine which produced prints similar to the one produced by the Offset Printing. This machine was first unveiled in Drupa in the year 2008. From then on Fujifilm began manufacturing digital printing press to web presses including the one that uses UV inks.

The world's first sheet fed inkjet model 'J Press 720' is based on Inkjet Principle for inking instead of inking the plates for printing with series of roller as found in normal printing machines. Though Inkjet inking Fujifilm claims that this machine meets the quality, versatility, productivity, and efficiency they demand. The 'J Press 720' machine can effectively meet the demand of print runs of just one or few thousands where traditional offset and digital printing fail to perform. The 'J Press 720' is set to open new opportunities in the market for short-run, general purpose commercial print using 29.5″x 20.8″ sheet with an output of 2,700 sheets per hour. The versatility to handle even the shortest of press runs is its main advantage. With a half-size format and a production speed of up to 1.3 seconds per sheet, this revolutionary machine is faster and more flexible than any other digital inkjet sheet fed press found on the market. It looks like a normal sheet fed Offset machine.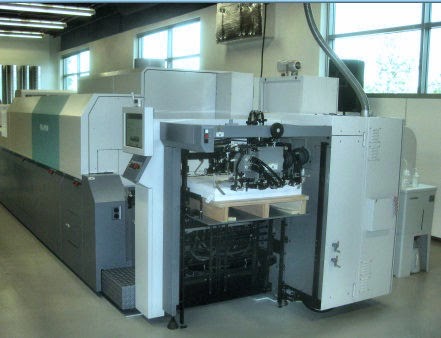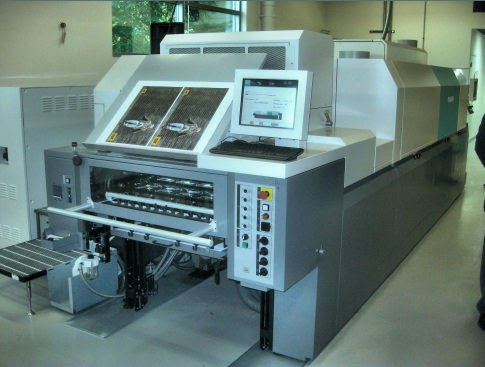 Delivery End
The 'J Press 720' looks a lot like any other normal sheet fed offset machine at the outset if you look at the feeder and delivery ends of the machine. It operates at 2700 sheets per hour with a maximum sheet size of 20.8" x 29.5" with a printable area of 20.5" x 28.3" which is not possible on a normal printing machine as sufficient margin is needed for gripper and tail edges besides side margins. The speed of 2700 sheets per hour thus translates the output to over 10000 single pages per hour. The minimum sheet size it accepts is 15" x 23.1". In addition to the feed and delivery, like an offset press, it uses drum and grippers for transport. The machine has temperature control system to ensure production consistency. As the paper moves towards the priming unit an anilox roller system applies Fujifilm's Rapid Coagulation Primer (RCP) across the entire sheet. This pre-coating helps the inks bind to the paper surface with minimal dot spread. After priming the coating is dried and moisture is extracted out to ensure paper control throughout the print process.
From there, the paper moves to the inking unit which has four process colour inkjets with a print bar each for four process colors, and once the sheet is printed it moves to the dryer unit. The hot air IR dryer ensures that the sheet is dry and flat for back printing or finishing when it comes off the press. After the dryer section, there is a sheet scanning QC unit. The J Press utilizes inline sensors to monitor quality control to ensure output quality and performing automatic corrections while printing. The CCD scanner scans the alternating color bars to see if the print quality is consistent and if any nozzles are misfiring to produce the desired colour output, it activates automatic device to make necessary adjustments to the adjacent nozzles to compensate the shortcomings. When the paper comes off of the delivery, it is dry to the touch.

The cornerstone of the Fujifilm inkjet technology is the SAMBATM piezoelectric drop on demand (DOD) print head technology. Fuji film's MEMS manufacturing technology allows the head to achieve resolutions of 1,200 x 1,200 dpi with 4 levels of grey scale. This machine gives an impressive true 1,200 dpi x 1,200 dpi resolution on both coated and uncoated standard Offset paper stock with four-level gray scale unobtainable on any other inkjet press. High-precision inkjet nozzles that are both mechanically and chemically stable to work with great accuracy and spray good density of ink.
The
SAMBA

TM

piezoelectric drop on demand

(DOD)

print head deliver a dot size of 2 picoliters, which makes for a much smoother looking offset like print. The inking unit has inbuilt integrated controller that enhances color management system and color calibration capabilities to maximize color consistency without the intervention of the press operator. Each of the 4 colors

(CMYK)

has a print bar containing 17 heads that covers the full printable width of 28.3 inches. Each head has 2,048 nozzles, which totals almost 35,000 nozzles across the length of the print area for each color. Ink grains as small as 0.5 trillionths of a liter are discharged at high speed from the print head nozzle onto the paper. The inks used in the system are water-based pigment inks.which are eco-friendly and that produce high quality images. Additionally, there is no toner pile-up and results in prints of offset-like finish and quality. The water-based inks also mean the unit requires less cleaning and produce less wastage. The inks are currently manufactured by Fujifilm itself in Tokyo, as proprietory product to keep control on the entire ink system on the machines.
The added advantage being the press requires no plate making, no need to run up to color adjustments, involves no make ready. It produces vibrant colors, superb skin tones, extraordinary fine text and line detail, and incredible flat tints all produced on standard offset paper.

In short the benefits of this machine has been the following:
2,700 half-size sheets per hour produced

True offset quality derived

Standard offset coated and uncoated paper used

Virtually no make ready involved

Sheets emerge dry to the touch even though the delivery end is short as it is inbuilt with infrared drying system

Variable data permissible

Quality is enhanced through unique anti-curling and rapid coagulation priming Fujifilm technologies, which deliver vibrant images and prevent paper curl and dot gain.

Outstanding quality is achieved sheet-after-sheet since it uses a CCD sensor, which scans every sheet and makes necessary alteration in real time when the sheets are under print.

No colour (Ink) setting is required as the colour effect is taken care of by the automatic sensors.

No plate cylinder is fitted as it is digital printing
Sheets can be easily recycled as the results of trials carried out by the International Association of the Deinking Industry (INGEDE) on sheets printed by the 'J Press 720' indicated levels of de-inking on paper was on par with offset inks. In all respects 'J Press 720' inkjet printing can be treated like offset printing.
Fujifilm claims that there number of significant environmental benefits exists on 'J Press 720' like reduction in use of raw materials, hazardous pressroom consumables and paper waste, along with the complete elimination of the plate production process.
Contact address
FUJIFILM North America Corporation,
Email: contactgraphics@fujifilm.com
Web: www.fujifilmgraphics.com