D G P : Direct to Garment Printer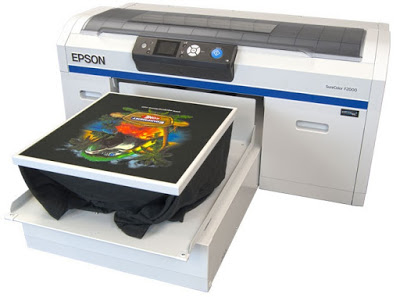 In the field of Digital printing, Epson America, inc, a leading manufacturer in the printer, scanners, professional imaging, projectors, system devices etc from U.S has gone a step ahead over others by inventing Direct to Garment Printer (DGP), with next generation print head technology, to print on the Garments like a photo copier producing instant copies. Any ready stitched garment can be printed on this table top model printer akin to a copier which has been developed by Epson group of Engineers consisting of mechanical, chemical, and software engineers over the years of research. This is indeed a revolution in the art of Garment printing as it replaces the hereto commercially available orthodox Screen printing and Flexo printing technologies for printing on garments. What makes this process i.e. printer different to the conventional printing is its adaptability and simple technique in instant printing of any image, be it on a single piece or bunch of garments without the use of stencils or plates.
The dimensions of the machine is 38.8" in width x 56.1" depth and 19.3" in height and weighs less than 182 lbs. The maximum garment imaging area is 16" x 20". The machine is reportedly equipped with Epson Precision Core TFP print head, fitted with 8-Channel, drop on demand ink jet head to skillfully print on the garment with a new technology ink called Epson Ultra Chrome® DG inks. The manufacturer of the machine, SureColor F2000 will become the new benchmark in high-performance garment imaging with the specially formulated ink which is compatible to both Cotton and Synthetic blend fabrics. According to Epson, they invented the printer for a specific cause as stated below.
Quote:
…………the all-new Epson SureColor F2000 was created with one objective in mind — making a killer T-shirt. Every aspect of these printers, from the printer mechanism to the ink delivery system, was purpose-built to deliver industrial-level production speeds, image quality, and reliability to redefine direct-to-garment (DTG) imaging……….
-Unquote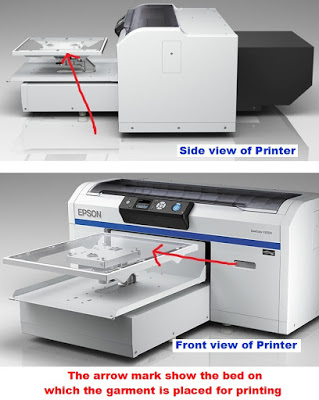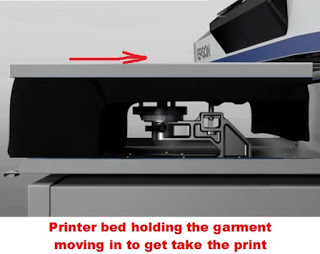 The printer is fitted with a Platen unit (a frame) to hold the garment during printing. The printer also has automatic platen height detection unit to ensure that the print head strikes the garment at correct level to uniformly spray the ink pellets, which again is aided by a LED beam detection system that automatically scans the surface of the garment to determine best platen height setting to achieve narrowest printing gap and highest imaging quality rendering prior to each imaging pass.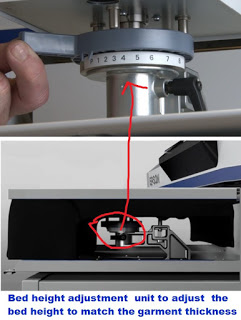 Except Ultra Chrome® DG Inks, no other ink will work on this printer as the DG inks have been specially formulated with certain qualities to not only print on garments, but also remain firm on garment surface without getting wiped off from the garment surface during use. Unlike commercially available varnish/oil based printing ink, the Ultra Chrome® DG Ink is special ink that reproduces clean, bright images with superior washability and supplied in cartridge of five colours which are used as one set to produce the multi tonal coloured images.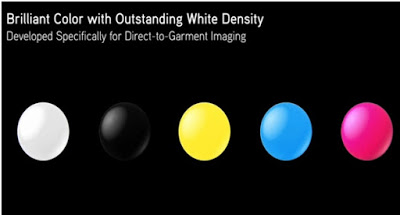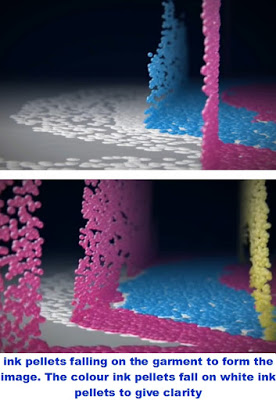 Each ink cartridge has built in ink filtering system to ensure that the ink entering the system is clear of contaminants. An additional internal ink filter screens the inks a second time before entering the print head thus further improving print head life and reliability. One of the five inks is white ink which has been designed as base ink to enhance the colour range and presentation value on light fabrics and for providing a stable base for colour printing on dark fabric. New white ink technology reduces sedimentation of the ink while printing. None of the inks clog the print head which is similar to the digital printer head that sprays the ink through nozzles. Precision ink droplet control ensures extreme print quality by spraying 1,440 nozzles per inch for white inks and 720 nozzles per inch assigned to color ink.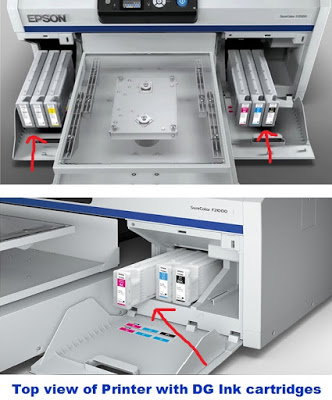 The inks also conform to 'Oeko-Tex® Standard 100' when applied on Garments for human ecological requirements of Class 1 products for adults, children, and babies up to 36 months. The Oeko-Tex ® 100 standard has requirements for the final product and aims to guarantee that products are free of harmful and hazardous substances like heavy metals, toxic dyes and substances like formaldehyde which is used in textiles as an anti-wrinkle substance and therefore safe for human health and the environment too. Certification for 'Oeko-Tex® Standard 100' has to be reapplied for every year. Therefore special care has been taken in formulation to ensure that the Ultra Chrome® DG Inks used in the printer for printing on garments is free of harmful and hazardous substances like heavy metals, toxic dyes and substances like formaldehyde.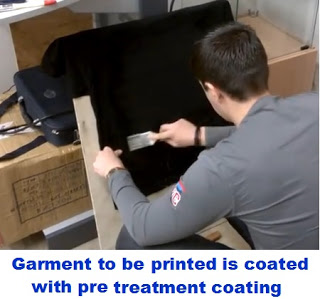 Before printing, the garments must be evenly and well coated with pre-treatment liquid which is then allowed to dry (naturally or in a heat press). Once printed the garment must again be placed in a heat press to fix the ink. It takes only few minutes to complete the process. Once dried it results in a finish with a low tack feel that is tough and durable, with good UV/Wash resistance. The garment thus coated with pre-treatment liquid is placed on the Platen of the printer already kept connected to a PC in which the images to be printed have been stored and print command given.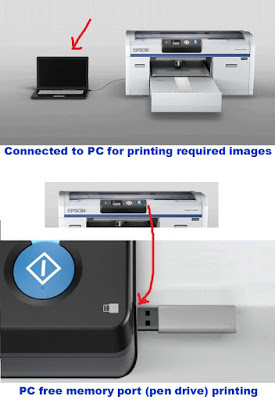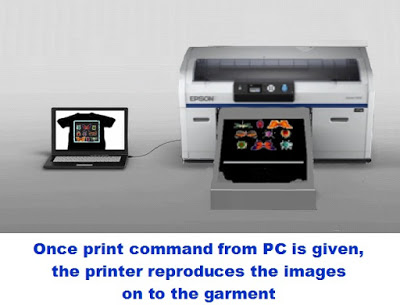 The platen with the garment mounted on the frame moves inside the print area and comes out after taking the prints. As the garment mounted frame comes out, the prints instantly dries out and remain firmly adhered to the surface. No further processing is required and one by one all other garments kept ready to take on the prints are mounted on the platen and printed one by one. The print command for the images to be printed, which are already uploaded in the PC attached to this printer can be given within few seconds without going in for fresh stencils or plates for each image.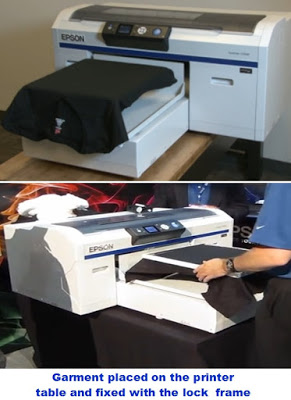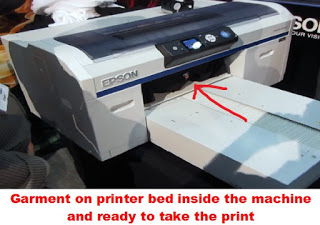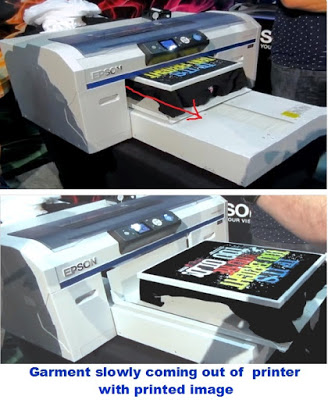 The Garment Printing machine is ideal for printing:-
When the print requirement is less than 200 garments per day.

When each garment required different images to be printed on each of them.

Instead of printing the entire 200 garments with the same design, whenever some garments require only one colour print, some other requiring two colour prints, some other three colour prints and some others as four colour prints, the same can be easily handled on this single machine.

This machine is extremely suitable for small print orders or even when only one or less than ten garments are required to be printed.

The garment can be instantly printed and supplied to the customer with the image as selected by the customer on site of printing.

Less cost compared to other conventional processes.
======================
Images courtesy: Epson- However some of the images have been slightly modified with captions for clarity in understanding the system