Recent Developments in Printing — Series- 3


(Written by N.R. Jayaraman)
One of the newer developments read by me in the Printing Technology has been reproduced in brief based on the contents from FlexApex Technology of Apex Machines Company, USA. This is reproduced mainly for the benefit of Students and others in Printing
Most high speed printing systems used in printing deploy Dry offset printing technology in which multiple ink colours are printed from relief images on the plates through an intermediate rubber blanket cylinder. The multi colored inks for the images are deposited on the blanket cylinder which in turn transfer all of the image colours to the printing surface substrate in a single or multiple impressions if it is multi color images.

The inks used in Dry offset are varnish based inks with suitable drier elements added -whether they are conventional air dried or dried by UV apparatus. The inks travel through series of ink rollers on the printing machine before being applied to the raised printing plate which in turn transfer them on to the substrate for printing through a blanket cylinder. Dry offset print machines can run at very high speeds and will produce high quality fine images and artworks and therefore printing of high quality large solid areas or high density is not possible as only a thin layer of ink film is transferred to the print substrate.

Where higher density prints are required like dense solid colours, or where light colours are required to be printed onto dark substrates, processes such as Rotary Gravure (Pad print) or Screen print (Silk screen) are commonly used. However the quality generated by these two processes may not match the fine art print derived from Offset. Though each of these processes provide good density of ink lay down on solids the disadvantage is the loss of finer quality print.

In the case of conventional Pad printing or Gravure the inks are solvent based to allow quick drying of the inks by evaporation of the solvents in the ink. The main ingredient of the solvent based inks are volatile organic or chemical compounds that have high vapor pressures which causes faster drying. The chief advantage of solvent inks is that they are comparatively inexpensive and can be transferred in high densities. They are also capable of printing on different substrates like Paper to Film substrates. However the greatest disadvantages is the treatment of the flushed out chemical solvent which need to be disposed off without violating prescribed environmental norms in each of the countries. Also, in this process each colour must be printed separately, thus requiring re-registration between each colour.

In the case of conventional Screen printing process, each colour must be printed and dried separately with or without the use of UV drying apparatus. The screens with the images to be printed are also quite expensive to produce and generally have a short life expectancy. Screen print provides excellent density of ink required but production speeds are slower due to the nature of process, thus causing higher production costs.

The Flexapex solution

Taking into consideration all the constraints as explained above, Apex Machine Company, USA which is 100 years experience behind them in the fields of designing, engineering, manufacturing and custom designed applications to suit specific products and machineries like dry offset, letterpress, gravure, gravure offset, & rotary screen printing process, have come out with an modified technology called
Flexapex

.



FlexApex

is an offset printing process which combines flexographic inking technologies, UV cured inks and the Dry offset printing process while printing multi-colours at high speeds.
Flexapex

is the trade name for a new printing process developed by Apex Machine Company to address some common problem in the Offset printing applications, particularly for printing heavier ink solids.

Unlike any other Offset process,
Flexapex

, the modified Technology provides the capability of transferring large volume of ink for the printing of dense artworks and solids, thus offering great potential for improved quality of printing the solids. The
Flexapex

process uses a combination of technologies and liquid inks, metered through Anilox rolls to suit the ink density requirements of specific artworks that needs heavier solids. This process allows printing of heavier, more denser solids than can be achieved with conventional Offset inking systems.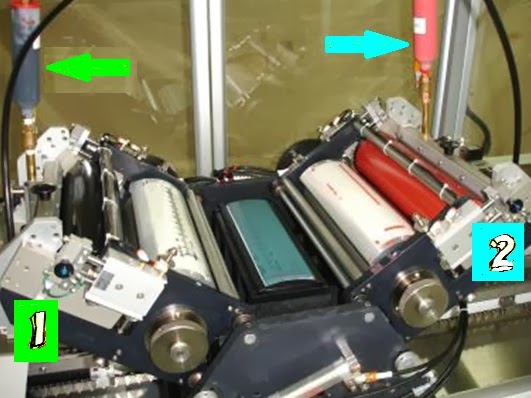 See combination of
inking

Units
(Pic Courtesy: Apex Machine.com —Image slightly

modified to explain the theory in inking

)
Similarly the printing of light colored inks onto the dark substrates also gives much better results by this process. The

FlexApex

process uses UV cured liquid inks and permits the laying down of substantially heavier ink films similar to Silk Screen and Gravure printing besides maximum of what is achievable with conventional offset inking systems.
Flexapex

is easier to operate, and provides highly predictable quality and density repeatability on re-runs.
Flexapex can also be combined with conventional Dry offset printing in the same machine. The process use solvent free UV cured liquid inks replacing solvent based ink used in the Silk Screen, Pad printing and Gravure processes. The manufacturer claims that in respect of cost Flexapex provides a low cost printing compared to the higher costs involved in Silkscreen or Offset printing heavier solid images for high volume products.
Get further details from:
Apex Machine Co
3000 NE 12th Terrace
Fort Lauderdale, FL 33334, USA