Nanographic printing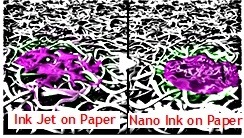 Nanography®
  Print Technology
(Written by: N.R. Jayaraman)
Nano is a Greek word meaning dwarf, and Nano in science represents extremely small atom. In terms of measurement Nano is quantified as one-billionth (10-9) of a second, or one billionth of a meter, or 10-9 of a meter. Further it can also be quantified as 25,400,000 nanometres per inch. Imagine the Nano size. In layman's view it is explained thus by the following diagram.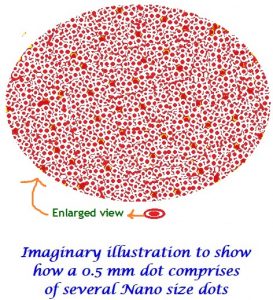 Nanoscience and nanotechnology are the study and application of extremely small things or material and can be used across all other science fields, such as chemistry, biology, physics, materials science, and engineering. In brief, Nanotechnology is the science of creating materials at the atomic or molecular level, smallest of the smallest of the smallest with unique properties. Precisely this nature of science has helped the Printing Technology develop most advanced printing process. It will be hard to imagine how small can the Nano dot be on the printed material.
One of the most interesting printing technology which is catching up the attention of the printers has been the Nanographic digital printing process introduced by an Israel firm called Landa group which is located in the Science Park in Rehovot, Israel. They claim to have developed a unique digital technology called Nanography® (based on Nano technology) for the commercial, packaging and publishing markets. It is claimed that the Nanography® is game-changing technology for the mainstream commercial, folding, carton, packaging, and publishing markets that will enable the profitable production of short to medium run lengths.
M/s Landa claims that during intense research, they found that many materials which when reduced to smallest of the smallest size (Nano size) acquires special unique properties and this came handy for them to develop the water based NanoInk® which when reduced to Nano particle size acquired unexpected properties especially to become powerful colorants. The pigment particle size of their NanoInk® reportedly are ultra-small, tens of nanometers in size, about ten times smaller than the size of pigment particles used in offset ink.
M/s Landa claims that the Nanographic printing process has number of advantages over existing printing processes as the Nano pigments have excellent light absorbing quality has and cover a 30% wider gamut than ISO offset—Landa's CMYK+OBG palette covers 96% of all Pantone color—50% more than CMYK offset Landa's CMYK+OBG palette covers 96% of all Pantone colour—50% more than CMYK offset. Since Nanography® technology uses about 10 times thinner print images than obtainable on other process prints, and can also achieve a broader colour gamut, this means the reproduction will be much more enhanced than the one achieved by normal print process. Special ink as developed by M/s Landa called NanoInk®, prepared using nanotechnology is water based and Eco-friendly.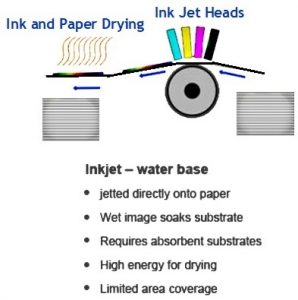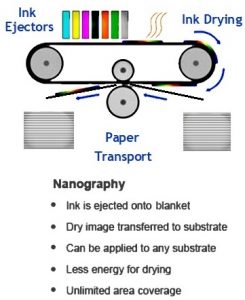 The printing process starts with the ejection of billions of ink droplets onto a heated conveyor blanket. The 500 nm thick colour image, the thinnest of any printing process, is then transferred from the blanket onto the substrate as though like laminated layer that matches the gloss of the paper and produces exceptionally round dots with super sharp edges and high gloss fidelity to the substrate. Once printed, the water on the ink evaporates, the droplets of ink flatten and blend to create an ultra-thin, dry polymeric film.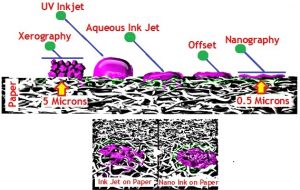 Unlike inks in other printing processes, the Landa NanoInk do not penetrate beneath the substrate surface. As a result, they create an extremely sharp and vivid colour image on paper, plastics or packaging films. The image produces consistently extremely round dots with super-sharp edge with high optical uniformity and consistent density whether the printing was on glossy or matte paper or on any other substrate. Though the Nanography ink is water based, but unlike water based inkjet inks, it does not require expensive special papers or special coatings on them prior to printing since the ink film has the extraordinary ability to bond to any paper and plastic printing substrates.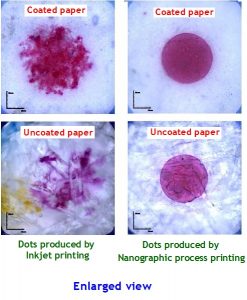 The Nanographic process offers the capacity to yield the lowest cost-per-page of all the digital printing technologies because NanoInk® images absorb light more efficiently than conventional images, and gets laminated onto the substrate without penetrating into them which enables such images to be only about 500nm thick and thus a thinner image requires lesser quantity of ink thus lowering the cost.
M/s Landa's Nanographic Printing® Presses are up to five times more productive than other digital presses since they print large format, B1 sheets (1050 mm/41") at 6500 sheets/hour while other digital presses use B2 sheets (736 mm/29") or smaller, and print at a much slower speed. M/s Landa produces presses that include commercial, folding carton, packaging etc. Komori in Japan will also manufacture their own printing press that will use and run on Nanography® technology.
Their first model commercial press, the Landa S10 series, will include an Active Quality Management (AQM) that maximizes the quality of every print. Developed by Landa with AVT, Techkon and EFI, Landa Active Quality Management is a fully automatic solution that scans each printed sheet, identifies defects (e.g., color consistency, print uniformity, registration, missing nozzles, etc.) and initiates corrective action where applicable – all without any operator intervention, enhancing print quality and increasing press productivity.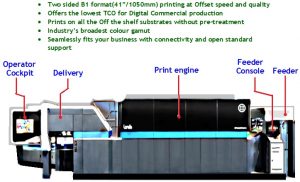 =============================================================
Acknowledgement: – This article has been published with the technical inputs from M/s Landa's website and after getting their permission.