Unique Security feature in Digital Printing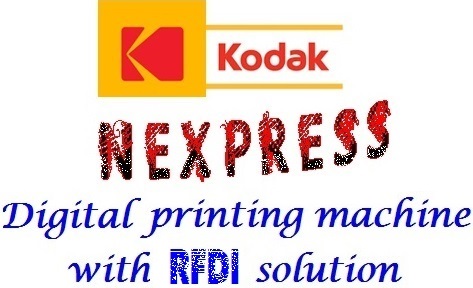 (

Written by N.R. Jayaraman

)
For the first time in the world of Digital printing, we were amazed to hear that sometime in the year 2010 or so, a not easy to reproduce security feature, printable by Digital printing has been developed by the pioneers in the field of Graphic arts products- M/s Kodak Ltd. One of the giants in the manufacture of Photographic products like films, papers and systems all under the roof Graphic systems, M/s Kodak continues to contribute their innovations to the print industry. Their 'NexPress' Digital printing machine is feather in the

cap of

Digital printing technology which has Fifth Imaging Solutions beyond CMYB or CMYK (Cyan, Magenta, Yellow and Key colour i.e Black) printing process. Perhaps for the first time, the application of security feature in print form, not easy to counterfeit on Secure documents have been made possible in the Digital Printing using dry ink (toner).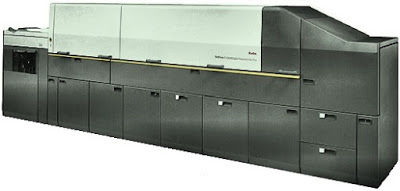 The Kodak NexPress is the world's best Digital color printer as per the industry news. Larger color gamut is reportedly available in this machine more than that reproducible by CMYK and this Digital printer offers to print close to 85% of PMS (Pantone matching System) colours using dry powder technology. NexPress is four color process commercial Digital printing and has the look and feel of offset printing. This machine is featured to even allow colours to be printed in different sequences and combinations, broadening the spectrum of applications that can be produced.
A brief on Pantone Color Matching System will be useful to understand the impact of the colour effect NexPress offers. The Pantone is a standardized color reproduction system uniformly used by different printers in different locations around the world, to reproduce identical colour effect of any specific shade on any material printed. The Pantone system has 1114 colour spots all of which cannot be simulated by conventional CMYK process of printing and the colours in Pantone are described by their allocated number. Each shade in Pantone colour is a mixture of certain % of different colours to arrive at the specific shade.
The Pantone colours are in the form of chip books, each one of them showing how the same colour will look on Coated, Uncoated and Matt finish stock. The printer will be able to pick up the exact shade of ink for all kinds of stocks to be printed- coated, uncoated, matt finish or even plastic based on which the prints are made. For example, the specific colour is very essential in the registered or patented logos and other registered or patented printed images as standardized by the firms. Whatever print material the firm produces, they expect the very same colour shade to appear in their logos or print images (registered shades) printed on variety of stocks such as coated, uncoated, matt finish or even plastic based. The shade has to be same on every bit printed. They may be printed in different locations too. The printers adhering to the Pantone system without direct contact with one another can match the exact colours printed in a press by using the Pantone colour code inks. Though Pantone is not the only color standardization system available, world over it is perhaps the most widely used system which most of the standard printers understand. Therefore printing close to Pantone colours will be a big leap forward in the art of Digital Printing .
Coming back to NexPress, as per user industry, the NexPress reportedly offers excellent image quality and a shade better than Offset suitable for all applications. NexPress seamlessly prints on virtually any kind of paper—coated or uncoated, textured or smooth. NexPress offers saturated high-contrast colours and crisp detail better than the one reproduced through Offset or by photographic image reproduction process on coated and uncoated papers.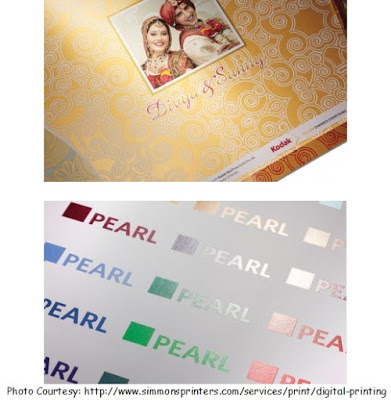 The machine supports use of a wide range of substrate types for printing in several sizes, weights and thicknesses. The machine has five color configuration, the fifth being imaging solution that enable gold printing effects. In an exhibition held in Drupa, the M/s Kodak reportedly showcased Gold print solution accompanied by samples of Pearlescent and Neon print options through the fifth imaging unit on NexPress Digital printing machine, all with Dry toner inks and not wet inks. The expansion of Gold and Pearlescent and Neon print solutions to Digital printing with dry toner will pursue new customers and market so claim the market watchers.
It is claimed that the major advantage of NexPress is the upgradability available on all the NexPress machines including for adding new inline UV coating which gives gloss and satin finish to the prints again through the fifth imaging unit solution. NexPress is able to produce unique invisible 2-D and QR bar codes on promotional and direct mail material to help track the forged material/products and also be able to print Dimensional Printing (2 and 3 D print).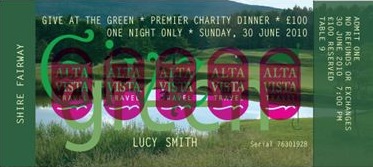 Besides above the features the other important major breakthrough in Digital Printing is the possibility to print security feature using a patented Red fluorescing dry powder for the protection of documents, packaging and promotional products and direct mail material. Kodak NexPress RFDI (Red Fluorescing Dry Ink) a patented product of Kodak, is transparent and virtually invisible to the naked eye when printed but show red fluorescing when viewed with appropriate wavelength in an ultraviolet (UV) light source as supplied by the firm as testing gadget. Red Fluorescing Dry Ink is applied inline, and is ideal wherever visible bar codes are used for workflow automation, mailing systems and even MIS (Managed Internet Service which gives high speed dedicated internet access to stay connected with customers, business partners and employees) connectivity.
The Red fluorescing dry powder ink allows clear bar codes to be printed inline encompassed with variable data printing, allowing each printed piece to be marked with unique information. When the invisible part of the print is illuminated with an ultraviolet light source it fluoresces a red colour. The intensity of the red can be controlled by the amount of Red Fluorescing Dry Ink that is printed on the page.
Kodak NexPress Red Fluorescing Dry Ink called RFDI which reportedly provides increased security to printed documents especially for the publishing and packaging industry. The RFDI has also passed all health and safety regulations. It is claimed that the invisible ink can be used to print unobtrusive images and non-reproducible bar codes on prints of secured documents, which then can be read with specialized bar code readers thus enhancing the security feature. For printing Red Fluorescing Dry Ink the machine requires installation of the RFDI station in the Fifth Imaging Unit, attachment of which reportedly requires less than 30 minutes so say the users forum.
Two units in India – Kozhikode in Kerala and Coimbatore in Tamilnadu are reportedly equipped with NexPress machines.