Omron- anti copying feature

In around two decades back the arrival of colour copiers into the market sent panic waves into the minds of the issuing authorities of Currencies and Bank Notes as the scope of counterfeiting of currencies not only increased but also made simpler the task of counterfeiters to forge the Currencies and Bank notes. Therefore in order to counter the menace,Interpol and banking authorities of Currencies and Bank notes in a joint appeal requested the manufacturers of colour copiers to incorporate some measures that would deter colour copying of the Bank Notes and Currencies.

Thanks to the intervention of one of the software companies originally established for electronics, namely Omron from Japan, who came out with a effective solution to counter the menace expected out of Colour photo copiers. The firm created a unique design in the form of some circles with outlines for use as design element and when they were merged with the the main design element and printed in Dry Offset base printing, photocopying on the colour copier could be checkmated as the resultant colour print will leave a void in that area. Since the feature will be same in appearance in any of the Currencies that incorporated this mark the colour copying of those currencies would remain difficult.
The name OMRON feature could have been given as the pattern resembled that of group of stars akin to its design which were known as Omron rings or called EURion constellation. Also the possibilities of the name Omron deriving from the name of Omron Corporation cannot be ruled out as it was Omron who invented it. Omron originated in an area of Kyoto called Omuro as established by Kazuma Tateisi in the year 1933, and incorporated as registered company in the year 1948. However the firm itself who invented this mark as anti copying feature did not give the feature any official name.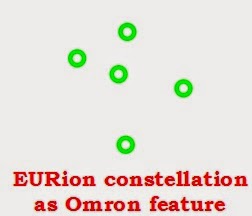 The marks in Omron pattern will be of specific size,thickness and will have specific no of circles, and placement prefixed in the marked area besides having specific colour density range. Beyond this, the technical details on the pattern and detection algorithm which have been carefully designed by Omron Corporation have not been revealed and held back as closely guarded secret. The design and size of the Omron mark shall be as per the master film provided by the SSG-2, the film supplied by the firm itself and should not be altered in any manner,lest the anti copying feature will fail to work.
The colour copiers are incorporated with a mechanism to recognize those marks, and leave a void while copying to classify them as security documents. The Omron feature as an anti copying security feature has been incorporated since 1996 in some of the world Currencies and Bank Notes issued by the Central Banking authorities. This feature is also incorporated in the Bank Notes issued by Reserve bank of India.