Guide to Printing Students – 36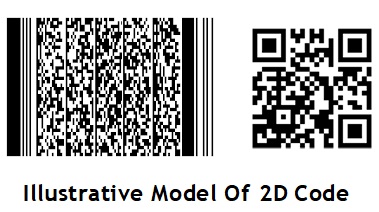 Guide to printing students
-Few objective Questions and answers-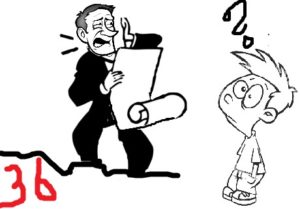 Written by : N.R. Jayaraman
152) What is Bar Code printing ?
A barcode is a machine-readable printed image consisting of parallel lines each varying in width or thickness. Though the image appears to consist of plain lines in different thicknesses, each or pairs of line  contains inbuilt information about the item to which it is attached, which can be read by a machine readable scanner device. There are one or two dimensional lines, consisting of dots or hexagons that represent specific data. The Bar Code was invented  in the US in the year 1952.
The traditional Bar codes are made up of a series of narrow and wide bars, with varying spaces between them. They can be scanned using photo sensor which read the barcode to show the  text within.  The scanning calculates the measurements between each bar, their thickness  and space and translates those measurements into characters. Each pattern of bars in the code is represented by a character. All Bar Codes commence with a unique start character and concludes with a unique stop character. By having the Bar Code laid out like that, the scanning equipment can determine which way the code is scanned in, whether forwards or backward or vice versa

Originally Bar Codes represented data by varying the widths of lines and spacing of parallel lines to enable each firm to generate their own coded bars with the use of a Bar Code generator which allows  creating a Bar Code graphic by providing Bar Code data, encoding type, and output file format. The Bar Codes are printable on the printing machines as well as by Digital printing. While there are many Bar Code types, they are generally categorized as 1D and 2D Bar Codes and choosing the right one depends on the needs of the business, the size of the product, label size and the amount of information that needs to be encoded in the Bar Code.
Bar Codes speak a different language in revealing the encrypted data and each type of Bar Codes  differs in terms of linearity and capacity, making each one of them suitable for  use of specific industry. While some of the Bar Codes are region (Country) specific and can not be scanned by scanners in other regions, the Universal Product Code can be scanned in many countries including the U.S., Canada, U.K., Australia and New Zealand.
153) What is 1D Bar Code ?
Traditional Bar Codes depict data with different space and widths of vertical, parallel lines and are called 1D (D=Dimensional)  or linear. 1D Bar Codes include some of the most traditional and well-recognized Bar Code types, such as the UPC and EAN codes. There are several versions of 1D codes and some encode only numbers while others can encode any keyboard character. All the information in the code is organized horizontally from left to right. These types of codes can be read by any type of barcode scanner. While 1D barcodes can have from 20-25 characters, many Bar Codes have only  8-15 characters.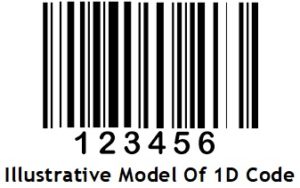 154) What is UPC ?

UPC represents 'Universal Product Code' reportedly invented in the year 1970. This Bar Code  is generally printed on retail product packaging to aid in identifying the product at the checkout counter say something like the  brand name, item, size, and colour of a particular item.  It consists of 12 numeric digits that are uniquely assigned to each trade , printed in the form of  series of unique black bars below which unique 12-digit number are added. Twelve-digit Bar Code  is also found printed on  books, magazines, candy etc.  UPC is also linked for inventory control since during scanning at cash counter they not only identifies an item, but  also automatically  provides real time information on quantity sold, store traffic pattern, and inventory and ordering information from the data stored in the computers. The United States, Canada, the United Kingdom, Australia, New Zealand and many other countries generally use UPC barcodes.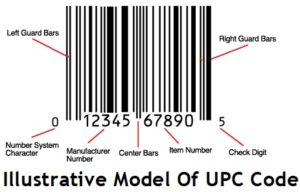 155) What is EAN ?
The full format of EAN is  'European Article Number' which is a standard Bar Code symbology and numbering system used in global trade to identify a specific retail product, specific packaging configuration, and specific manufacturer. The most commonly used EAN standard is EAN 8 or the thirteen-digit EAN-13, a superset of the original 12-digit UPC (UPC-A). The EAN-13 number includes a 3-digit  prefix which indicate the country of registration. While the first bar 0 generally indicate that it is a UPC Code, the second and third bars indicate the country. For example the code with 045 is Denmark 091 is India and so on. While EAN 8 is used  on small packages  EAN 13 barcode is used on bigger packing material.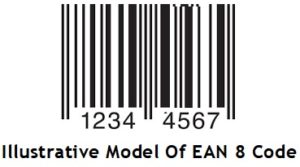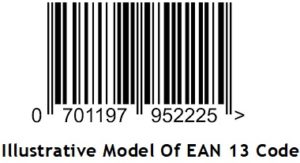 156) What is  2D Bar Code ?
2D Bar Codes, as the name indicates is two-dimensional (2D) Bar Codes   consisted of dots, hexagons or other patterns – two-dimensional symbols and shapes- instead of vertical parallel lines with spacing in between. 2D barcodes are a bit more complex as they organize information both vertically and horizontally unlike 1D which organize information horizontally. This allows 2D codes to hold much more information and take up less space than a 1D code.  All the 2D Bar Codes are readable by image scanner to read the data properly. In subsequent development two-dimensional (2D) image code variants were developed, using rectangles, dots, and hexagons etc which are called matrix codes thus facilitating the 2D codes to accommodate up to 2,000 characters. Remember as you attempt to increase the amount of information to be stored in the barcode, size of Bar Code will increase. 2D barcodes include some newer barcode types, such as the QR Code and PDF417.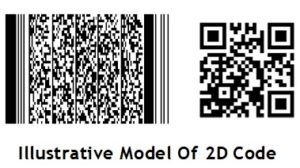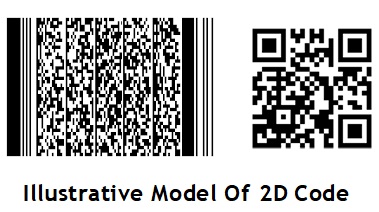 157) What is QR Code?
This in fact is next generation to Bar Code printing system, reportedly invented in the year 1994. This Code is always square in shape consisting of black squares arranged in a square grid on a white background. The Code consists of equal no of pixels from right to left horizontally and top to bottom vertically. For example it can be 21 pixel x 21 Pixel  or 180 Pixel x 180 Pixel. The required data can be read from patterns that are present in both horizontal and vertical components of the image with the aid of an image scanner or Camera. QR Code is short form for Quick Response code which is the trademark name for the two dimensional Bar Code system. Similar to Bar Codes this is also machine-readable optical image that contains information about the item to which it is attached.  It has fast readability and greater storage capacity compared to standard Bar Codes.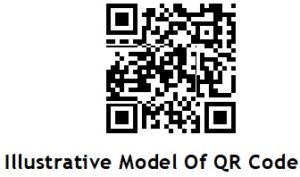 158) What is SQRC Code?
The SQRC called Secure Quick Response Code  has been invented by a Japanese firm who has patented the technology to protect personal, private, secret, confidential data from getting read through QR Code scanners. This is stated to be more helpful in prevention of counterfeiting and forgery.  It is possible to store two levels of control   of information in a single code. They are called public data and the other one is Private data.  The private data area which is locked is readable only by a permitted SQRC special scanner. No other scanners can read SQRC,  and therefore it is possible to encode personal information and confidential information.  The private data is encoded with a password that can unlock the information. While the  QR code can  be read by general  devices like  mobile phones, camera enabled  PDA devices &  scanner, a  proprietary scanner is needed to scan the password and reveal the encrypted data in SQRC.  The password can be changed as needed.
SQRC is a new QR code with data reading restriction, capable of handling all types of data, such as Numeric and Alphabetic characters, Alphanumeric, Symbols and Binary characters.  25 mm x 25 mm size SQRC can be inbuilt with either 7089 numeric characters, or 4296 Alphanumeric characters, or 2953 Binary characters while in the   QR code of  the exactly same size one can  encode only 300 alphanumeric characters.